Making your place suit the theme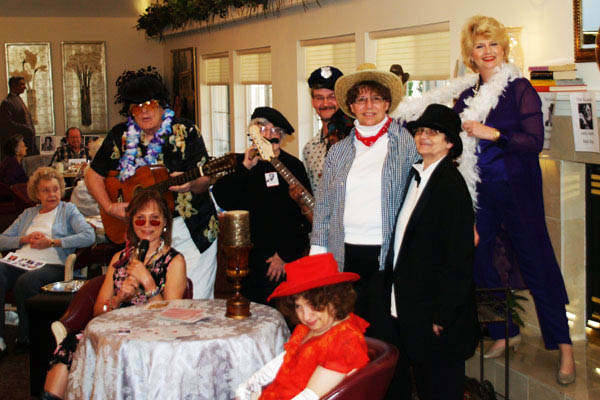 How should you decorate for a murder mystery themed party?
If you are planning a party, particularly a theme party, the following decoration ideas will get you off to a good start.
There are decor suggestions and prop suggestions in the host guide for each kit. See our best mysteries and click on the title of the kit to see more details and access the samples and host guides. After you have read the suggestions below, if you need any other mystery party decoration ideas, please contact us.
How can you recreate the crime-scene and victim?
Depending on the mystery party kit plot, you may like to recreate the body of the victim as a decoration.
You may like to buy some crime scene tape and section off an area where you put a fake body (e.g. some clothes stuffed with rags or newspaper). Or you could make it look like it is a body bag. Or use some marking tape and stick it on your carpet and make a body shape.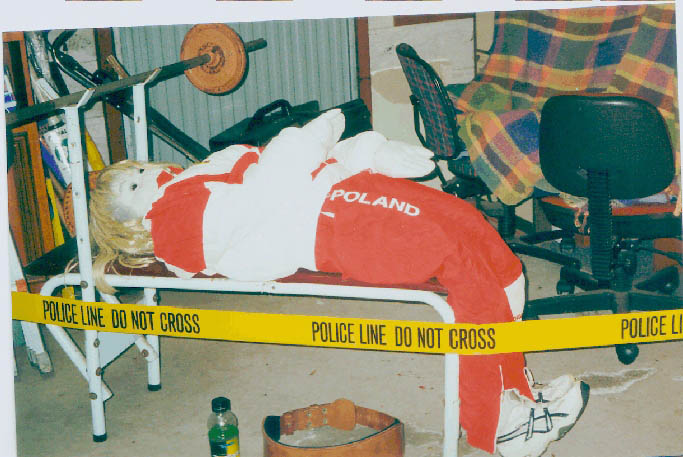 Marina Harvey from Australia's victim (Lydia) from her Storm Survivors party.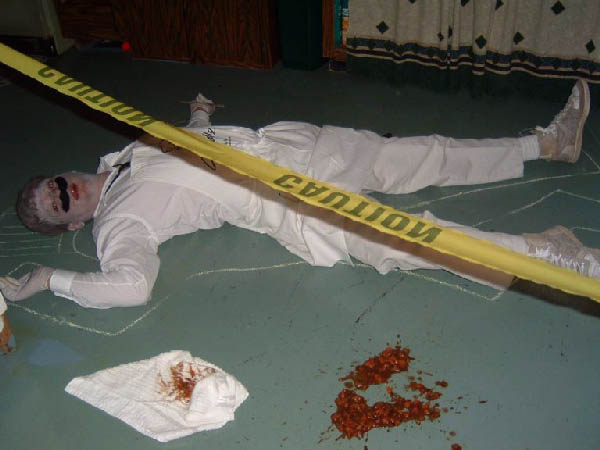 Dianne's photo of the victim from her Murder Of The Great Chef party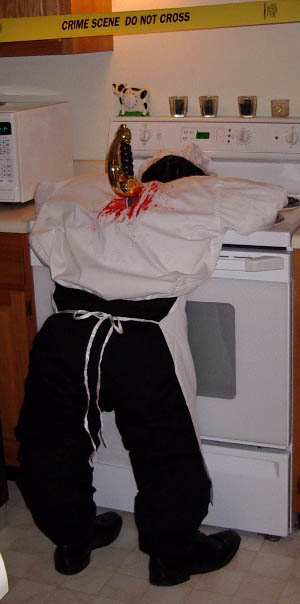 Linda's photo of the dead chef
from her Murder Of The Great Chef party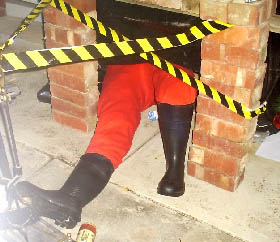 Chris' photo of Santa's legs coming out
of their handbuilt chimney
from her Who Killed Santa? party
Setting the scene for the theme
Depending on the kit, you may like to draw a mural or create a sign for the imaginary town or place.
Gina Hardin sent in a photo from Tina Vance's party which shows the decorative creativity of their group (see below). For their One Of The Girls party about a school reunion – they drew a mural on the wall of school lockers.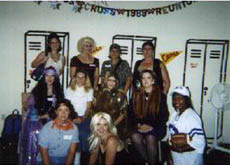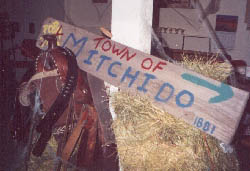 Debbie's Murder On The Prairie
Mitchido sign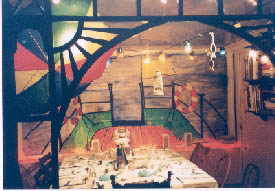 Ann's mural from her party
How have our clients decorated for their mystery parties?
Creating scenes from the books that the characters are from
Delores Page sent in this feedback:
"We had our The Luck Of The Irish party last Monday with 25 present..all Sr. citizens, and I was amazed at the energy and enthusiasm it generated. (with a little prodding by the ladies)………(guys!…)……….thanks for your good advice and prompt attention to my previous plight……..
I made a model of Gilroy Castle out of a long box on end, surrounded it with rough Christmas bough greenery and some weathered barren "trees" and roots.. made two ramp like bridges across a tinsel stream covered with blue cellophane..it covered my round coffee tabletop..and we did add a "Clancy's Pub" out of a tablecloth draped ironing board. for atmosphere…………..the gold "coins" were old poker chips sprayed with gilt paint and kept in a green net bag…and lots of prizes..including some SHAMrocks, taken from our roadside and sprayed green…..

I considered dyeing an "Erin go Bra" flopper-stopper, but ran out of Time. ………..and an "Emerald Ripple" houseplant…….Queen Mona's robe was a gold chenille bedspread, and she wore every rhinestone bit of jewelry she could find……Empty walmart bags filled the bulging chest, stomach and hips of Una the frog…they were tucked into a baggy pair of bloomers, and felt frog feet covered the top of my shoes……….There was even a map with graphics on a wall with the clues tacked on the board for review…….Thanks for a memorable day!"
Creating a basketball stadium
Eva sent in this feedback about decorating for her Out Of The Game party:
"I just wanted to thank you for an evening of terrific fun – The pictures I am sending you are of my 5th 60 plus 5th and 6th grade students at College Hill Middle School Magnet Academy in Texarkana, Arkansas.
We had a blast – We had over three hundred parents, grandparents, and staff members in attendance on December 3, 2005.
We transformed our cafeteria in a baseball stadium, with locker room and all – We served chili dogs, nachos, and apple pie – on each table we had baseball tablecloths with a hat and a glove filled with peanuts, popcorn, crackerjacks, chips, and beef jerkey.
It was an incredible evening of fun and the students were outstanding as I am sure you can tell by the pictures attached – Hope you enjoy
Eva Nadeau
CHMS, GT Instructor
Texarkana, Arkansas"
Making your place have a Wild West theme
Catherine sent in this feedback about her party:
"My name is Catherine Bentler, I purchased the Murder on the Prairie party for our gourmet dinner group. Every other month for the past 3 years, this group has had a gourmet dinner get-together. When we were to host in January this year, we decided we needed to mix things up.
Since we live in Montana, I thought the Murder on the Prairie Western Theme suited this group the best. We transformed our front room into a Saloon, made our back family room into a huge dining hall with checked table cloths and beer mugs. The costumes were fabulous. Some people even rented them from a local Theatre company. Even our babysitter dressed in prairie clothes and helped with the serving. Her kind mother also lent us loads of western décor from their own home! We made "Wanted" posters with participants' faces.
Enjoy the pics!

Catherine (Ceci) Bentler
Billings, MT"
Creating a celebrity theme
Galean Wilder sent in this feedback about her party decoration for her Celebrity Celebrations party:
"The party was for 14-16 year olds…mostly kids just getting out of 8th grade. They seemed ever so much more interested in staying in character and telling everyone what they knew than solving the mystery, but they all had a great time and laughed for hours. We played Twilight Zone in one room and a Doris Day movie in another. We also had a karaoke and that was probably the most popular thing. Everyone had a great time! It was a wild night!"
My daughter is over the top with all of her parties. She printed pictures of all of the celebrities and put them in frames throughout the house, as you suggested. It looked great! All we did was print a black and white photocopy and it looked like we knew Bette Davis and John Wayne because we had a framed photo.
We bought those peel and stick (reusable too) stars from some sight selling Hollywood decorations…the same place we bought the red carpet, gold plates, napkins, etc. Another fascinating thing to the kids was the plastic champagne glasses. I made punch and served it in those glasses. We also bought "crime scene" tape from a website too and I went to Home Depot and bought yellow "caution" tape. The teens considered it a party favor and decorated themselves with the tape.

It was a clever party thanks to your kit and a few new ideas from Meg."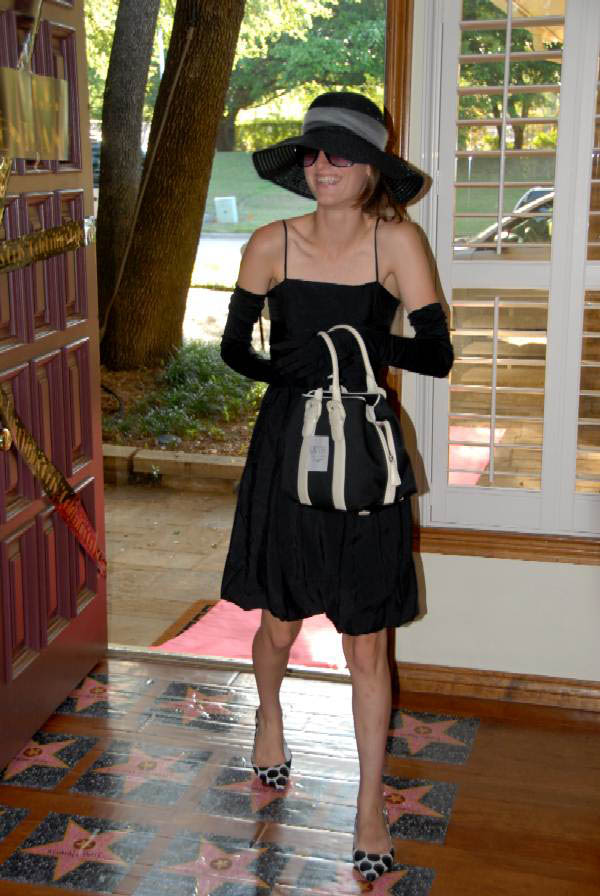 Scavenger hunt decorations
Margot Walshe sent in this feedback about decorating for The Hunt (a scavenger hunt mystery):
"We had our party yesterday and it was fantastic. The kids couldn't quite work out what to expect but afterwards both my 13 year old son and my 11 year old daughter (birthday girl) said it was brilliant, the best party ever! So a great success. We anticipated that our guests might not be so great at getting in character, which was why we went for the scavenger hunt, but boy did they enjoy working out the clues and racing round the house trying to find the treasures. I had found a £1 million note on the internet and a novelty gold bar which made great props and brilliant prizes. I printed off the picture and put it in a proper frame, printed off the coin and glued it to a giant chocolate coin. I hid a small pink stone – there was a frenzy when they all tried to get to that first!
The timings worked perfectly and miraculously by the end of the party everyone had won a prize. The choice of hiding places worked really well as there were several options for most of them which helped split the kids round the house.
We split them into teams of three for working out the clues and this worked really well.
I printed off the title deeds with a border and aged the paper with an old tea bag before rolling it and fixing with a ribbon. That also became a popular prize! I am attaching a copy of both in case you might find them useful.
Well Stephanie, thank once again and best of luck with MerriMysteries.
Kind regards

Margot"
Cruise ship party decoration ideas and recreating the victim
Here is Linda's photo of the victim at her Balmy Bahamas Cruise party:

Karl Virgil's body (poetic license as he actually drowned)
Linda sent in this feedback about her party:
"Since most of us have cruised before and/or been to the Bahamas, this was the perfect choice.
I took the picture of the Goombay Deck Plan, enlarged it and posted it on the wall beside the Suspects Page. Then I made signage to put up around my house. Made the deck look like a ship deck with wall posters and put "Karl" face down outside on the ground below the deck and put orange tape around him. I did the same concept out front but with the half-deflated monkey.
I greeted everyone as the Cruise Director, created Boarding Passes with assigned cabins based on the Suspects Page information. Guests went up the front steps to the ship's photographer Don.
After a picture in front of the beach scene wall border, guests proceeded inside to Tilly Song and gave her their boarding passes and she gave them their name tag.
Guests then got a "Goombay Smash" drink (found on IslandFlave.com) and went to the ship's deck outside to do the introduction of characters. I served a meal course in between each act.
We had a mystery dinner last yar for 10 people from another party provider. We all felt Merri Mysteries was better. We had 14 peoples this year – it was great to have the expandable packets. Clues for each act were great but some felt a few questions added to each act would make it more interactive. Only 2 of the 14 guessed the murderer!
Overall, it was a HUGE success and we are all looking forward to next year's.
I gave all the men "Winner" medals (from the Dollar Store) and the women crown jewels on a stick as prizes for their costumes since they were all great. The winners of the Who Guessed It got liquor nips. There will be lots of parties between NH and Massachusetts as this concept grows from our parties!"
General party decoration ideas
Your house will feel warm and inviting if you have lots of candles and pretty lights both inside and outside.
Outside party decorations
String strands of tiny white lights in your garden, along railings, through potted plants, around tree limbs or around the front door of your house, for a special atmosphere.
Paper bag lights
Place paper bag lights along the edge of your path leading up to the front door to create a warm welcome for your guests. These soft lights will also help to guide those who are not quite sure of your address. Another good place for them is amongst plants in a garden bed and on the letterbox. Here's how you make them:
Pour a few inches of sand or soil into the bottom brown paper lunch-size bags.
Open them into a cylinder shape so the sand holds the bag flat on the ground.
Push a short candle (a few inches long – so it sits below the top of the bag) into the sand. The sand will keep the candle upright and the wind won't blow the candle out because the bag protects it. If the sand has made a solid base the bag will be well away from the flame.
Have a bucket of water handy to pour on any of the bags if they do happen to catch alight.
Inside party decorations
Here are some party decoration ideas you may like to try:
Float small candles in water in glass bowls. For variety, color the water with food coloring.
Decorate plain glass tumblers by pasting stars cut out of tissue paper on the outside, and place a short candle inside.
Tie candlesticks with wide gold, silver ribbon.
Clump candles of different sizes in groups on a table.
Sit short candles on a tiered cake stand in amongst pine cones.
Stand a candle in the middle of a dish of seashells.
Use scented candles to give the room a nice soft smell.
Spray pinecones or whole walnuts with gold or silver paint and cluster them around a candle. Tie with a broad ribbon to hold them in place.


Warning: Never leave burning candles unattended. Keep flames away from paper, greens, or other flammable objects. Make sure candles aren't placed where partygoers will knock them over or brush against them with their clothing. Have a bucket of water handy and a hose.
Other party decoration suggestions
Fill the house with a delightful aroma by simmering a pot of water with cinnamon and citrus fruit.
Fill mittens with potpourri, tie with ribbon and hang near the front door for a lovely aroma. These can be given as gifts at the end of the party.
For a dramatic tree decoration make a huge bow out of richly colored wired ribbon and place it on top of the tree. Just make big loops, tie them together with floral wire and allow long lengths to hang down through the tree.
If you need any other mystery party decoration ideas, please contact us. We are always happy to help.
Our Games Are Perfect For