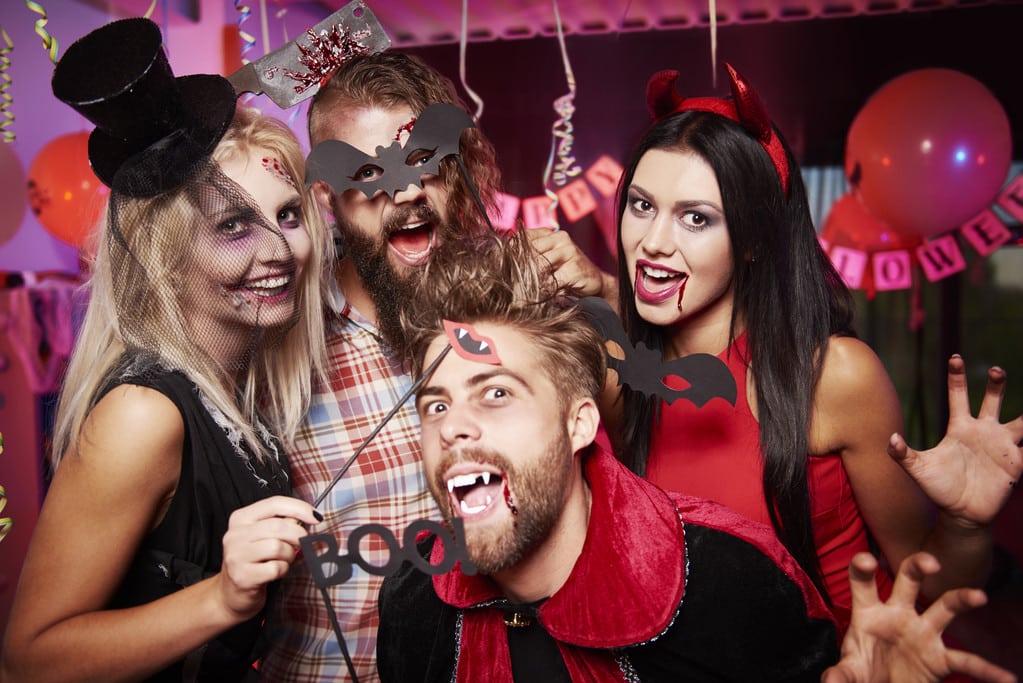 As the moon rises and the autumn chill fills the air, it can mean only one thing— Halloween is just around the corner. And we're here to make things easier, so you can enjoy your Halloween party to the fullest. Whether you're planning a spooky soirée at home, a thrilling office gathering, or a hauntingly fun bash for your tweens, here's a comprehensive guide to hosting a Halloween party that's one for the books.
Halloween Party for the Office: Tricks to Keep it Professional
Hosting a Halloween-themed office party is a fantastic way to boost morale and foster camaraderie among colleagues. Here are some tricks to make it a hit:
Embrace Themes: Encourage your coworkers to participate by selecting a fun Halloween theme for the office party. Halloween theme ideas like "Classic Horror Movies" or "Famous Monsters" can inspire creative costumes and decorations that bring the office to life.
Hold a Costume Contest: Organize a costume contest with prizes for the spookiest, funniest, and most creative costumes. This adds an element of friendly competition and encourages everyone to get into the spirit.
Go for Ghoulish Decor: Transform your office space with eerie decorations, from cobwebs and spiders to flickering candles. Keep it tasteful and not too scary to ensure a comfortable environment for all.
Prepare Halloween-Themed Snacks: Surprise your coworkers with a spread of Halloween-themed party snacks, like "Mummy Dogs" (wrapped hotdogs) or "Monster Eyeballs" (meatballs with olive slices). Don't forget to include vegetarian options for everyone. Need more options? Check our list of ghoulish Halloween food and drinks & other ideas.
Have Fun with Office-Friendly Games: Plan office-appropriate Halloween games like "Pumpkin Pictionary" or a "Scary Scavenger Hunt" to keep everyone entertained. Want Halloween party game ideas that promote collaboration? Check out our list of team-building murder mystery games.
Halloween Party for Adults at Home: Treats to Make Your Bash Memorable
Planning a more intimate gathering at home this Halloween? These Halloween party tips and tricks will help you make an enchanting evening for you and your friends:
Put Up Spine-Chilling Décor: Transform your home into a haunted mansion with spooky decorations, dim lighting, and eerie music. With a chilling atmosphere, you can set the perfect Halloween mood for your party.
Encourage Costume Elegance: Encourage guests to embrace the spirit of Halloween with sophisticated costumes. Themes like "Classic Hollywood Monsters" or "Time-Traveling Ghosts" can inspire elegance and creativity. Also, share themed makeup ideas to help them complete their looks.
Serve Creepy Cocktails: Craft Halloween-themed cocktails, like "Blood Orange Martinis" or "Witches' Brew," to add a touch of macabre delight to the evening. Hosting a Roaring Twenties-themed party? Offer classic cocktails and mocktails that were trendy during the Prohibition Era. While you're at it, make your Halloween party more fun with a Gatsby-themed mystery game.
Prepare Haunting Hors d'oeuvres: Serve delectable Halloween-themed party snacks like "Mummy Brie" or "Cauldron Queso Fundido" to satisfy your guests' appetites.
Do Halloween Karaoke: A night of spine-tingling karaoke is a fun way to break the ice and keep the party alive. Create a spooky song list and encourage your guests to unleash their inner rock stars.
Halloween Party for Tweens & Teens: Tricks for Teenage Thrills
Planning a Halloween party for tweens and teens can be a blast with these tips and tricks:
Pick Age-Appropriate Themes: Select themes like "Zombie Apocalypse" or "Haunted Circus" to capture their imaginations. Want to pull off a murder mystery theme? Here are our recommended murder mystery party games for tweens and teens; just use our game kits to make the party easy to host.
Keep the Party Fun with a Costume Contest: Host a costume contest with categories like "Best Group Costume" or "Most Creative DIY Costume" to inspire friendly competition.
Get Creative with DIY Decorations: Depending on your party theme, you can craft paper bats, glow-in-the-dark ghosts, and pumpkin centerpieces. Teens can help make their own spooky décor.
Hold a Scary Movie Marathon: Set up an outdoor movie screen or designate a cozy space for a horror movie marathon. Provide popcorn, candy, and blankets for a good time.
Add Scavenger Hunt: Want to make your Halloween party more fun for tweens and teens? Organize a Halloween-themed scavenger hunt with clues and riddles leading to hidden treasures or Halloween treats.
Outdoor Halloween Party: Thrills Under the Moonlight
For those who love the crisp autumn air and the allure of the moon, an outdoor Halloween party can be a bewitching experience. Here's how to host an unforgettable gathering in the great outdoors:
Create a Spooky Setting: Utilize your backyard, patio, or garden to create a haunted atmosphere. String up fairy lights, place flickering lanterns, and scatter faux tombstones to set the scene.
Listen to Campfire Tales: Gather around a crackling campfire and share eerie ghost stories. Provide cozy blankets and marshmallows for toasting to make your outdoor Halloween party an unforgettable experience.
Host a Costume Parade: Want to make your Halloween party outside your home more fun and exciting? Organize a costume parade beneath the moonlight. Let your guests strut their spooky stuff in their Halloween best.
Set Up Trick-or-Treat Stations: Create themed trick-or-treat stations with different treats and surprises. Guests can wander from station to station, enjoying sweet and spooky delights.
Add Moonlit Mysteries: If you're looking to add an element of intrigue to your outdoor gathering, consider hosting a moonlit murder mystery party. With easy-to-use murder mystery kits, you can turn your backyard into a mysterious crime scene and let your guests become amateur sleuths under the stars.
Halloween Party That Involves a Murder Mystery: Tricks for a Mysterious Evening
Whether you're hosting a Halloween party outside or in the office, you can add a murder mystery game to make the event more mysterious and thrilling! Here's how to make it an unforgettable experience:
Purchase a Murder Mystery Kit: You can get pre-packaged murder mystery kits online to simplify the planning process. Complete with character profiles, storylines, and instructions, these kits enable you to set the stage for mystery.
Let Your Guests Dress Up: Sending Halloween invitations to your guests? Include the details about their assigned characters and motivate them to dress up and immerse themselves fully in the murder mystery narrative.
Spruce Up the Place with Suspenseful Decor: Whether you're hosting your Halloween party at home or in a function hall, decorate the space to match the murder mystery theme. With the right decor, you can create an immersive atmosphere that transports guests to a different era or world.
Encourage Collaborative Sleuthing: Let your guests team up; they can work together to decipher clues and go through alibis to solve the mystery.
Unmask the Culprit: Before the party ends, gather everyone to unveil the murderer and have everyone celebrating the successful sleuthing adventure.
Host a Hauntingly Good Time with Merri Mysteries
Whether you're planning a spooktacular office gathering, a spine-chilling adult soirée at home, a teen-themed thriller, an enchanting outdoor party, or a suspenseful murder mystery, Halloween parties offer endless opportunities for fun and creativity. And here's a little secret to make your party planning even easier: Merri Mysteries' murder mystery kits can transform your Halloween bash into a truly unforgettable event. So, embrace the spirit of Halloween, follow these tips, tricks, and treats—and prepare to host a hauntingly good time that will leave your guests spellbound.