When it comes to themed parties, it's not just about finding the perfect costume; it's also about crafting the ideal look to bring your character to life. That's where themed makeup comes into play! Whether you're attending a period murder mystery party, a celebrity-inspired bash, or a beach-themed extravaganza, the right makeup can elevate your ensemble to a whole new level. Today, let's dive into some exciting themed makeup ideas to help you steal the show at your next event.
Old-Age Elegance: Wisdom in Wrinkles
Are you stepping into the shoes of a wise character? Old-age makeup can work wonders. Start with a clean canvas, using a light foundation to create a base. Then, add depth and realism by using brown eyeliner or eyeshadow to create subtle wrinkles around your eyes, mouth, and forehead. Don't be afraid to exaggerate those lines slightly, as they'll appear less pronounced in photos. For age spots, pick a darker shade of makeup, lightly dotted on your cheeks and hands. Want to give your hair that silvery touch? Apply a light gray eyeshadow or temporary spray color. Finish with a dusting of translucent powder to create a matte, aged skin effect.
Bonus Tip: Blend meticulously—seamless blending is the key to convincing old-age makeup.
Roaring Twenties Glam: A Touch of Vintage
Stepping back into the glamor of the Roaring Twenties? Then, you'll want makeup that's just as bold and dazzling. Begin with a matte foundation for a timeless look. Emphasize your eyes with a smokey eye makeup look, complete with dark eyeshadows, dramatic winged eyeliner, and multiple coats of mascara for that iconic, expressive gaze. Don't forget to define your eyebrows—bold brows were all the rage in the twenties. You can pick a shade that suits your skin tone, but don't shy away from red's vibrant allure. It's the hallmark of 1920s style, after all. Finally, consider a chic updo or finger waves for your hairstyle to complete the vintage vibe.
Bonus Tip: Red lipstick is the centerpiece of any 1920s look. So, invest in a good matte red lipstick that won't budge during all your Charleston dancing or while participating in a perplexing yet fun 1920s Great Gatsby-themed mystery party.
Pageant Queen Sparkle: A Touch of Celebrity
If you're attending a celebrity-inspired party, why not go all out with a Pageant Queen makeup theme? This look demands all things glitzy and glamorous. So, start with a high-coverage foundation for that flawless canvas. Then, go for a shimmery eyeshadow palette with gold and silver hues to achieve that red carpet sparkle. False eyelashes are a must for those captivating, starry eyes, and be sure to apply mascara generously. Highlighter is also your best friend here; apply it strategically on your cheekbones, brow bones, and down the bridge of your nose for a radiant effect. Finish with bold, jewel-toned lipstick, and you'll be ready for the paparazzi.
Bonus Tip: When applying highlighter, use a light hand; you want to glow, not beam.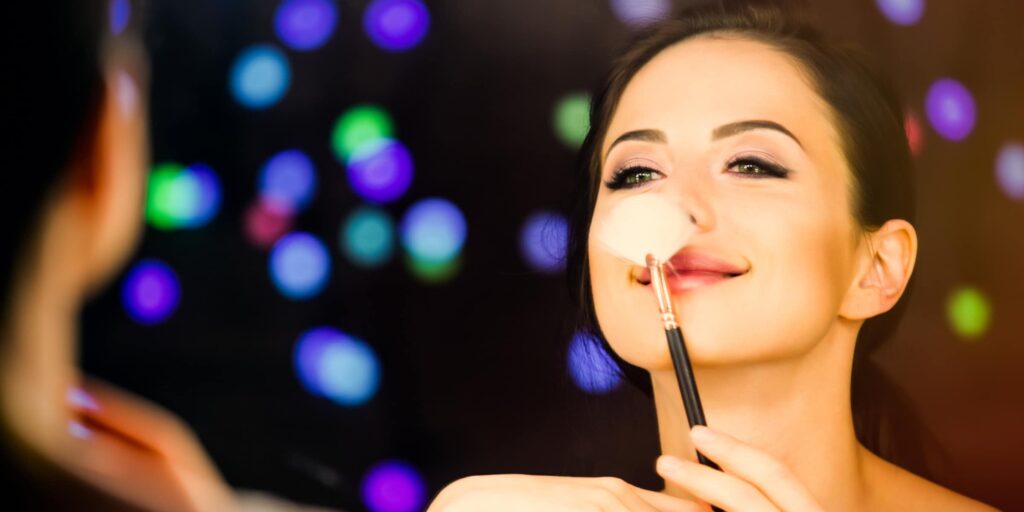 Tropical Glow: Beach Party Chic
Attending a beach-inspired party or using a tropical mystery party kit like The Balmy Bahamas Cruise, capturing the essence of a tropical paradise with your makeup is the way to go. Begin with a lightweight, dewy finish foundation to mimic that sun-kissed radiance. Don't skip the bronzer; use it to contour your cheeks, nose, and jawline. Pick bronze and golden eyeshadows, and feel free to add a touch of gold eyeshadow in the inner corners of your eyes to mimic the sun's glimmer on the water. Coral lipstick is perfect for this look and complements the bronzed skin beautifully. Finally, consider a beachy wave hairstyle to complete the tropical vibe.
Bonus Tip: Use a dewy finish setting spray to lock in that fresh-from-the-beach radiance.
Gothic Glamor: Embrace the Dark Side
Undeniably, the gothic-themed makeup is perfect if you prefer a darker and more dramatic look. Start with a pale foundation, or use a white mixer to lighten your usual foundation. Emphasize your eyes with deep, smudged eyeliner and dark, matte eyeshadows. Want an extra touch of drama? Add false eyelashes and apply mascara generously. Bold, dark lipstick in shades like deep burgundy or black will also help create a captivating contrast. To add an ethereal touch, use white or silver eyeshadow on your brow bone and the inner corners of your eyes.
Bonus Tip: Don't forget to use a matte setting spray to keep that gothic look intact and make your party makeup the star of the night!
Pirate Chic: Arrr, Matey!
For a pirate-themed mystery party, embrace your inner swashbuckler with some pirate-chic makeup. Begin with a tan foundation to mimic that sun-kissed pirate complexion. Highlight your eyes with smokey eyeshadow in earthy tones like brown, bronze, and gold. You can also line your eyes with dark brown or black eyeliner and apply mascara generously. Want to create a more rugged look? Go and add faux dirt and a bit of stubble using brown eyeshadow. Then, finish with a bold red or dark burgundy lipstick for that pirate flair. Consider adding a few fake scars or tattoos with eyeliner or temporary tattoos for authenticity.
Bonus Tip: For pirate-themed makeup, the more rugged, the better. So, don't be afraid to go a little messy with your application.
Mardi Gras Magic: Beads, Masks, and Colors
Looking for a good holiday party makeup idea for your next Mardi Gras-themed party? A vibrant and playful makeup is the name of the game. Start with a bright, colorful eyeshadow palette that includes shades like purple, green, and gold. Create a striking, multicolored eyeshadow look with dramatic wings to mimic the festive Mardi Gras masks. Don't hold back on the glitter—this is your time to shine. Add glitter eyeshadow or eyeliner to your eye makeup for that extra sparkle. You can also experiment with false eyelashes, especially those with colorful feathers or gems. What about the lips? Go bold with vibrant purple or green lipstick. Top it off with glitter gloss for added pizzazz.
Bonus Tip: Make sure your eyeshadow colors match your Mardi Gras beads or costume for a coordinated look.
Superhero Spectacle: Unleash Your Powers
If you're looking for cool makeup ideas for superhero-themed parties, we've got your back. It's all about channelling your inner hero or villain. Begin with a high-coverage foundation for that flawless superhero complexion. Define your eyes with bold eyeshadows in the colors of your chosen character. Playing a superhero with a mask at a Superhero Mystery party? Use eyeliner to create a mask-like effect around your eyes. False eyelashes are also essential for those dramatic, comic book-inspired eyes. Finish with lipstick that complements your character's colors. 
Bonus Tip: Research your chosen superhero's makeup style and use reference images to get the look just right. Also, consider adding temporary tattoos or face decals to mimic superhero symbols.
Be Bold, Be Creative, and Have Fun!
Themed makeup is the secret sauce that takes your costume and character to the next level at themed parties. Practice your chosen look beforehand, and don't be afraid to experiment & adapt it to suit your character's personality. Your imagination is the only limit when it comes to creating the perfect makeup for a theme party.