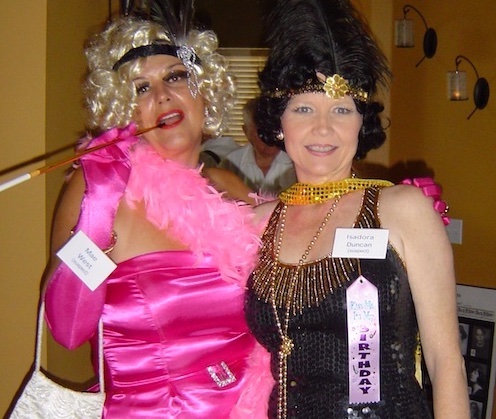 Step back in time and indulge in the glamor and excitement of the Roaring 20s. Whether you're hosting your 30th birthday party, a corporate event, or a themed gathering with friends, the Jazz Age provides a captivating backdrop for an unforgettable celebration. Get ready to don your flapper dresses and suspenders as we share some fabulous hosting tips that will transport your guests to an era of opulence and intrigue. And for the ultimate Gatsby-inspired experience, we will introduce you to the captivating Poetic Justice mystery murder party game later. 
Set the Scene with Art Deco Elegance
Planning to host the Roaring 20s-inspired party at home or in your office? Transform your venue into a scene straight out of The Great Gatsby with Art Deco-inspired decorations. Pick black, gold, and silver color schemes, and incorporate geometric patterns, feathers, and sequins. If possible, hang strings of pearls, adorn tables with elegant candelabras, and place vintage-inspired signage directing guests to the speakeasy. Want to complete the scene? Consider adding a vintage gramophone or hiring an entire jazz band. Lighting is also crucial in creating the right ambiance, so maximize dimmed lighting or candlelight to evoke the intimate atmosphere of a speakeasy.
Dress to Impress
As a dinner or birthday party host, you have to encourage your guests to embrace the style of the 1920s by dressing in glamorous flapper dresses, tuxedos, and accessories like feather headbands, long gloves, and beaded jewelry. You can send style pegs before the party to help your guests pick their party outfits accordingly. 
At the venue, you can also provide a dressing area with props such as boas and bowties, allowing guests to immerse themselves in the spirit of the era. And if your budget permits, consider hiring a professional photographer to capture stunning outfits and provide guests with memorable 1920s-inspired keepsakes.
Offer Signature Cocktails and Mocktails
A party with a Roaring 20s theme isn't complete without booze! So spend ample time crafting a menu of classic cocktails popular during the Prohibition era, such as the iconic Old Fashioned, Sidecar, French 75, or Champagne Tower. 
Research recipes from the era and use authentic ingredients whenever possible. You can also hire a private bartender to prepare all those drinks for you and your guests. Here's another idea: display a stylish bar area stocked with vintage glassware and an array of garnishes like lemon twists, maraschino cherries, and sugar cubes. Don't forget about the non-drinkers or those who prefer non-alcoholic options! Offer them refreshing mocktails like the Shirley Temple or the Virgin Mary, garnished with fruit and herbs.
Prepare Decadent Food Selections
What about food? Curate a menu that captures the essence of 1920s indulgence. Offer an array of bite-sized appetizers and finger foods, including oysters Rockefeller, mini quiches, deviled eggs, and shrimp cocktails. Want to elevate the celebration and be remembered as an incredible party host? Create a lavish buffet with dishes, including roasted meats, seafood, and decadent desserts like chocolate mousse or lemon tarts. Want an interactive element? Set up a live carving station or a made-to-order pasta bar. Label the food with elegant signs or cards that reflect the aesthetic of the era.
Create a Gatsby-inspired Mystery Murder Party
Add an extra layer of excitement to your Roaring 20s party celebration with a Gatsby-inspired mystery murder party from Merri Mysteries. 
At Merri Mysteries, we offer the captivating Poetic Justice game that plunges your guests into a thrilling murder mystery set in the world of literature and poetry. With intricate storylines, character roles, and clues to unravel, your guests will have a blast playing detective while immersed in the glamor and intrigue of the 1920s. 
The Poetic Justice game is available in standard or play format for 10 to 16 guests, making it perfect for intimate gatherings. There are also "meet and mingle" versions for  larger parties of up to 50 guests. Some "mystery not murder" versions are also available and there is also a school version with teacher's notes.
You can set the stage by creating character name cards, providing costume accessories, and printing out a timeline or map for guests to reference during the game. Encourage participants to embrace their characters, speak in 1920s slang, and interact with one another to uncover the truth. Want to persuade your guests to play the mystery murder kit? Award prizes for the best detective, best costume, and best improvisation.
Summing It Up
Step into a bygone era and celebrate the Roaring 20s in style with these hosting tips that capture the elegance, glitz, and mystery of the Jazz Age. If you're looking for an unforgettable twist, create a Gatsby-inspired mystery murder party with a ready-to-play kit from Merri Mysteries. You and your guests will likely have a blast! 
Follow our tips above, and you'll be more than prepared to host a party and dance the Charleston, sip on classic cocktails, and revel in the glamor of the Roaring 20s.