Mystery Party Fundraising Ideas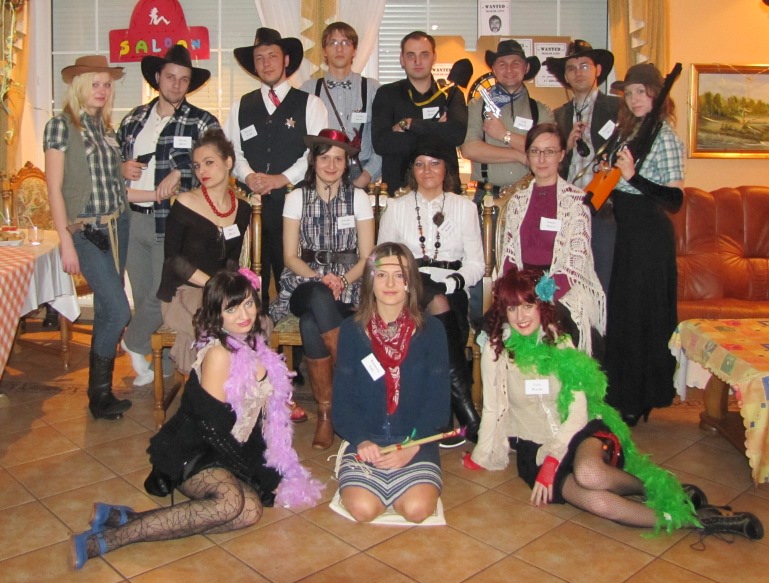 Using mystery party games is one of our great fundraising ideas
A successful fundraiser needs enthusiasm and promotion but it need not be costly. After all the idea is to raise money, not spend it. Use media releases, posters, memos, letters to parents, letter box leaflets etc to promote your cause, and don't let up on reminders. To get people on-side make sure they all know what the fundraiser is in aid of.
Some people are shy at fundraisers as they don't know one another so you may also like to see
Ice-breaker party games
. Mystery dinner party kits are great for fundraising events. You may like to use one of our standard kits and have each table dress as the same character and elect a representative to read out their clues to the whole group. Or have each table doing the same mystery at the same time. Then they each table guesses who did it at the end. Or you could use one of our meet and mingle kits for groups of 17 or more. See "
our best mysteries
" for details on our kits. If you want, you can save some of the more important sounding clues and have people bid to receive that clue. You may also like to auction the right to play one of the main suspect roles or be the detective.
Comments from clients that have used our kits for fundraisers
Raising funds for a non-profit
"Hello, My name is Lisa Young. The murder mystery used was "Murdering the Boss" (now called "Caught In A Spanish Web"). I purchased the kit. This was the best fun!!!!! I sold the dinner as a fund raiser for a Free Medical Clinic I am involved in. The dinner was a spend the night party at a Old Plantation house in Plantersville, SC. The group that bought the dinner were all from Charlotte, NC. As you can see they went ALL OUT on the costumes. They want to donate money to the clinic next year for another murder weekend. Thank you so much! Lisa Young"
Raising funds for a club
Debbie Hemming held a fundraiser for her local Rod & Gun Club sent and send in this feedback:
"Thanks so much for the mystery Murder on the Prairie. What a blast. In total we raised over $700 from a murder mystery party with only 20 people in attendance. We had a $100 cash for whoever guessed who the murderer was. We had 3 people guess correctly. The winners actually donated the money back to the club. So they only real expense was for the food. And most of the food was donated."
Fundraising for a youth group
Here is Traci's group photo from her
Celebrity Celebrations
party:
Group photo
Traci sent in this feedback about her "Celebrity Celebrations" party:
"LOADS of fun. We had a dinner for 72 people, and all had a fabulous time! This was a fundraiser for our youth group and they now want to do this twice a year!"
Raising money for a mission trip
Here is a photo of the "Little Mermaid" table decoration from Traci's
Mystery In The Library
party:
Traci sent in this feedback about her party:
"We had a wonderful time decorating and putting on this mystery dinner! Our youth group has successfully used the mystery dinner for two years now, as a fundraiser to pay for our mission trip this summer. I have a number of wonderful pictures, especially one of the cake that our talented rector's wife created for this event!
But I can only attach one, and was so proud of our youth for coming up with the idea of themed tables and creating runners for each table with drawings of different stories (they used many Disney stories and fairy tales). The attached Little Mermaid theme was one of my favorites!
Again, many wonderful costumes, but we had a costume contest and these two were voted the best overall! Wish I could send more!"
Here is a photo of the Papa Bear and Dr Watson from Traci's "Mystery In The Library" party:
Mystery games that have been popular for fundraising
Some kits which have proved very popular as fundraisers include
Mystery In The Library
(where you can dress as a fairytale character),
Celebrity Celebrations
(for up to 100 guests) and
Who Killed Santa?
(for up to 100 guests) for Christmas fundraisers.
General tips for raising money
Here are some tips that may help:
Ask people to bring along a plate of food so you can reduce the costs or recruit volunteers to cook.
Ask people within your group to donate the prizes.
Get people to bid on anything and everything.
Ask guests for donations but don't make this the focus of the entire evening otherwise people may not come along to future events. Try to make it a fun night with the right mix of fundraising and pure enjoyment.
Play some fun music as people arrive or hire a band or DJ.
Encourage mingling by using games as above.
---
Other fundraising activities you can use
Giant book sale
Many people just love books. Ask people to bring along any unwanted books from home. Everyone in the family can contribute towards this – mom, dad, aunties, uncles and grandparents. They can be magazines like car, boat, health or women's magazines, nature magazines, or books of any genre (but leave the girlie magazines at home!). Roughly categorize them – fiction, non-fiction, cookbooks, photographic books, classics etc and lay them out on trestle tables. Advertise the sale well ahead of time, make the prices affordable and you'll be surprised how quickly they will disappear. Have plastic bags handy for those buying lots of books. If you want to make this sale even bigger ask for donations of CD's as well as books.
Mystery cooks
Ask adult members of your organization to donate a 3 course meal. Have the menus printed out and auction them to the crowd. Don't let anyone know who the cooks are until they have bought the meal. The time and place of the meal (it could be a picnic) is to be negotiated between the cook and the successful bidder.
Lucky dip
Ask all the local businesses to donate one item as prizes but make sure they know what you are fundraising for. Whatever they are happy to donate is fine. It can be large or small. For example: a haircut, make-up, a set of glasses, a bottle of wine, a voucher, a book, a balloon ride, coffee and cake for two, dinner for two dance lessons, babysitting, plumbing service etc. Be sure to tell them you will advertise their business when you give the prize and on the donation board. (Write a list of donating businesses on a large board and stand it alongside the table.) Number each donated item and list them. Use plastic counters and number them 1 to 100 (or as high as you wish as long as it's more than the number of prizes). Players pay an amount to pick a number out of a barrel. If it is the same as a numbered item, they win that prize. Cross off each prize as it is won. If they know what the prizes are they will have more incentive to keep trying to win.
Sports day with a difference
Get people mixing and mingling by organizing a sporting day with a difference. It might be parents versus children, bosses versus employees, fathers versus mothers, fathers and sons versus mothers and daughters, the media versus politicians, teachers versus students. Organize fun games like egg and spoon races, three legged races, relays, baseball, human wheelbarrow race, spaghetti eating race, obstacle race, and a scavenger hunt. Charge by the team or family or individual.
Elegant Edwardian tea party
This takes a bit of organizing but can be very successful and a great excuse to get dressed up. First you need a park or a large backyard. You'll need a tea tent and people to donate cakes and elegant sandwiches (crusts cut off please!). Send out invitations to as many people as you can inviting them to a classical Edwardian tea party. White is the color of the day and everyone must dress up – the women in long dresses with flowery sun hats and parasols and the men with jackets, braces and curly mustaches. Beg, borrow and steal as many pretty cups, saucers and plates as you can (grandmothers are usually good resources of these). If possible have a string quartet playing under a tree (dressed appropriately of course), and old-fashioned games like quoits, skittles and croquet ready to be played. Children's games could include and egg and spoon race and a sack race. Co-opt people to be in charge of the games just to keep things moving and in order. Spread picnic blankets on the grass. Charge each person or family a considerable amount to step back in time and enjoy an elegant afternoon tea in the park. Be sure to have your camera ready and invite the TV crews.
Our Games Are Perfect For