Easy party food ideas for mystery parties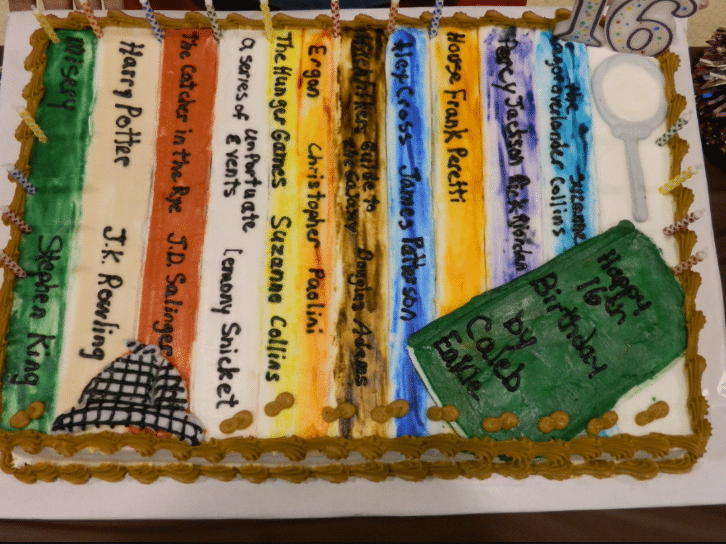 Photos and feedback on food from mystery parties

Easy party food ideas for mystery parties
Wild West food
Catherine (Ceci) Bentler from Billings, MT served this for her "Murder On The Prairie" party:
Blue cheese and caramelized onion squares
Beef Kabobs
Corn Fritters with Salsa
Green Beans with Mushroom Madeira Sauce
Barbeque Ribs/ Salad and Rolls
Cheesy Mashed Potatoes
Dried Cranberry and Apple Crisp with Ice Cream
Fairytale food
Here is a group photo from Mia's Who Stole The Cookies? party:
Mia sent in this feedback about her Who Stole The Cookies? party:
"We had a lot of fun. We had 8 girls, I (Mia) was Sherlock Holmes, and a mom played Mrs. Bookworm. I wanted to have a food that represented each character so in one of the pictures we were toasting (sparkling cider) as if we were at Cinderella's Ball. In another photo you'll see our 'cookies' and petit fours (Alice in Wonderland) that some said "Eat Me" and a sliced poison apple (Snow White). The girls were laughing and had a great time. For prizes I wrapped giant candy bars and each one would say: Presented to Best… (actress, dressed, Who guessed it, etc). I also made a CD of music from the different character's that we played between Act's when they were snacking.
This was also enjoyable because the girls had never done this before so they really got into it.
Thanks!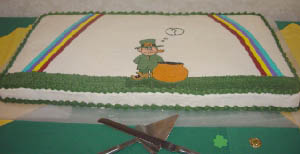 Linette's cake from her Luck of the Irish party
Mia and Claire Marr"
Carol sent in this feedback about her "The Luck Of The Irish" party:
"Dear Stephanie,
Luck of the Irish was an appropriate choice as it was only a few days before St. Patrick's Day. It is the second "Merri Mystery" I have organized for my Rotary Club, The Rotary Club of Gawler Light, in South Australia.
The entertainment area in my house is set up like an old English pub, so it was easy to turn it into O'Toole's Irish Pub for the evening.
We had 32 participants and everyone had an absolute ball. We had green beer, stout (my husband is a home brewer) and Baileys Irish cream. I cooked Irish stew which I served with Irish soda bread and followed it with Irish sugar cookies. We even had a crock of chocolate gold coins and gave miniature bottles of Baileys Irish Cream for prizes.
Some of the Irish accents that were heard were absolutely hilarious as we had guests who were Scottish, Indian, Danish and from the north of England!

Thank you for making the game so easy to follow, our club enjoyed a wonderful night of fellowship and we are all looking forward to the next one."
Eva sent in this feedback about the "Out Of The Game" party:
"I just wanted to thank you for an evening of terrific fun – The pictures I am sending you are of my 5th 60 plus 5th and 6th grade students at College Hill Middle School Magnet Academy in Texarkana, Arkansas."
We had a blast – We had over three hundred parents, grandparents, and staff members in attendance on December 3, 2005.
We transformed our cafeteria in a baseball stadium, with locker room and all – We served chili dogs, nachos, and apple pie – on each table we had baseball tablecloths with a hat and a glove filled with peanuts, popcorn, crackerjacks, chips, and beef jerky.
It was an incredible evening of fun and the students were outstanding as I am sure you can tell by the pictures attached – Hope you enjoy.
Eva Nadeau
CHMS, GT Instructor
Texarkana, Arkansas"
Other food ideas
If you are planning a party the following ideas will get you off to a good start.
We recommend that you prepare party food that can put in the oven during the beginning of the party so that you aren't trapped in the kitchen. For example, lasagne or a roast dinner.
There are food suggestions in the host guide for each kit. See our best mysteries page and click on the title of the kit to see more details and access the samples and host guides.
We don't provide recipes in our kits as there are so many excellent recipes available for free via the internet. Just go to your favorite search engine and enter the type of party food you are looking for (e.g., Spanish food recipes).
Try and serve dishes at the party that are easy to prepare or get a caterer to help. Or asks your guests to bring a plate of food. This is fair as you are providing the mystery party game entertainment.

Put people's names on their drink glasses so that people don't keep getting a new glass for each new drink and creating a million glasses to wash!
Train your guests in how to rinse dishes and put them in the dishwasher.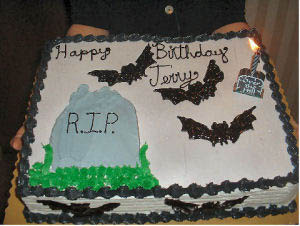 Debbie's cake at her Celebrity Celebrations Halloween party
We recommend you serve party food to suit your guests. For example, if you are having a children's party, you should realize that most children only like typical children's party foods.
Cocktail party food ideas for mystery parties:
You may like to serve cocktail party food such as:
caviar and crackers (not necessarily expensive caviar)
vol au vents filled with corn or asparagus and cheese
spring rolls
filo pastry parcels with spinach and feta cheese and pine nuts
spicy chicken wings
mini pizzas
hot skewered food
mini sweet pumpkin pies.
If you would prefer, you can serve a sit down dinner or have the food in a buffet / smorgasbord arrangement.
Our Games Are Perfect For