Here Are Some Costume Ideas: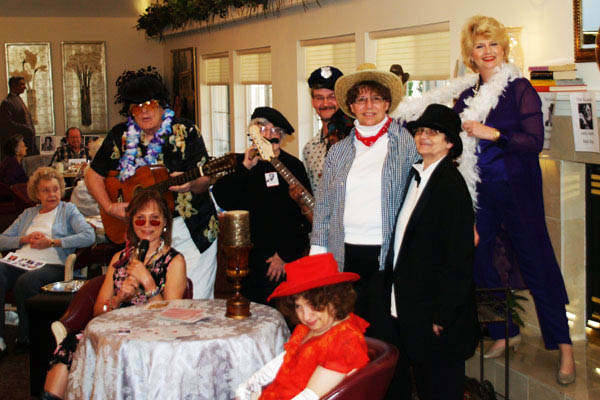 You can wear ordinary clothes instead of buying a costume
You don't have to buy or rent a costume unless you want to. You can make a fancy dress costume instead. Here are some mystery costume ideas:
For example, you can play Pinocchio in Mystery in the Library by creating a cardboard pencil nose and tying it on with white or skin colored elastic. This guest colored his skin to great effect to become Aladdin's Genie (see below). This is a very effective fancy dress.
Easy fancy dress and murder mystery costume ideas
You can create "two-tone" 1940's shoes for Poetic Justice by sticking white electrical tape to half of your black shoes.
Be innovative and creative with your fancy dress costume. Often it's just a matter of combining your ordinary clothes in different ways. For example, in Out Of The Game (about baseball) you can play a klutz by wearing different colored socks.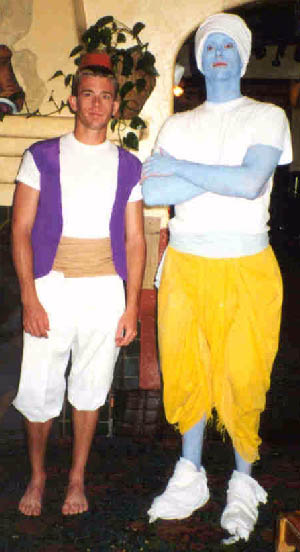 Carleen's photo of Aladdin and his Genie
Accessories really help. Think about your character's interests. For example, if you are playing Goldilocks in Who Stole Cookies? – bring a bowl of porridge (oatmeal) with you. It will really add to your costume and create a talking point. And if you don't like the food at the party – you can always eat your porridge!
If your guests won't have time or can't dress in costume for some reason, have some props such as scarves or beads etc to suit their roles on hand. For example, have a long scarf for whoever is playing Isadora Duncan in Poetic Justice, a basketball for whoever is playing Gerardo Netman in The Balmy Bahamas Cruise.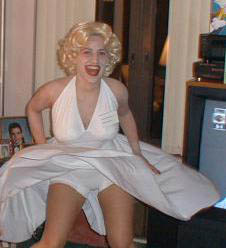 Rosemarie's Marilyn Monroe picture from her Celebrity Celebrations party.
Some kits require more dressing up than others. For example, with Storm Survivors you can just provide props for each suspect such as table tennis paddles etc. You can always look at the costume suggestions in the samples before you decide which kit to buy. And you can also read the host guide and see which props are required. See our best mysteries page and click on the title of the kit to see more details and access the samples and host guides.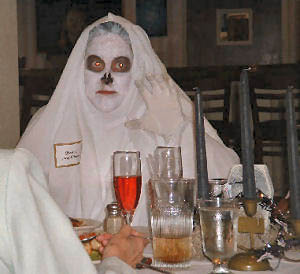 Our Games Are Perfect For