Hi I have created a fantastic card game version of 
Mystery In The Library
and I am launching a Kickstarter campaign for it TODAY (September 15th 2019). See
my Kickstarter page
 to support the campaign.
What's great about this mystery card game?
Here is why I think you will love it:
FLEXIBLE – can be used for 8 to 30 guests which is unlike the other versions of Mystery In The Library which have 10 suspects – this one has 8 suspects so you can even use it for a party as small as 8 or as large as 30.
NO PRINTING OR ASSEMBLY NEEDED – AND IT COMES WITH CUTE CARDS
3 VERSIONS IN ONE BOX – you can re-use it with different groups of friends and not know yourself who did it each time as there are 3 versions – A, B and C with different people who did it. There are additions to the report and who did it pages for versions B and C that change who did it.
SHORTER – there are less clues and a lot of the clues themselves are less wordy. Later I hope to make these changes to all the other versions of Mystery In The Library but it is a big job.
GIFT READY – the printed card game box will make a great gift for friends and family for Xmas.
This printed card game for 8 to 30 guests is only $39 on Kickstarter.
 However, after the Kickstarter launch, I will be selling it for $49.95 on my website and on Amazon. Currently on my website I charge $39.95 for each of the downloadable kits for up to 30 guests. So getting the printed card game for only $39 (plus $8 shipping within the USA) is a real bargain. It will only be available via Kickstarter until October 8th when the campaign ends.
If you prefer to print it yourself, 
you can pay only $29 on Kickstarter for a downloadable version of the new card game. However, it is a little tricky to print as there are 284 pages (141 cards with a front side and a back side to each), and you have to move to the multiple pages section of your print menu and select to print 4 pages on each page (see the image below that shows how you should make the settings in Adobe Acrobat). And then you will have to cut them horizontally down the middle afterwards and fold each card in half (so there is a back and a front to the card). Normal versions for up to 30 guests cost $39.95 to download on our website, so this is $10 off the normal price. It will only be available via Kickstarter until October 8th.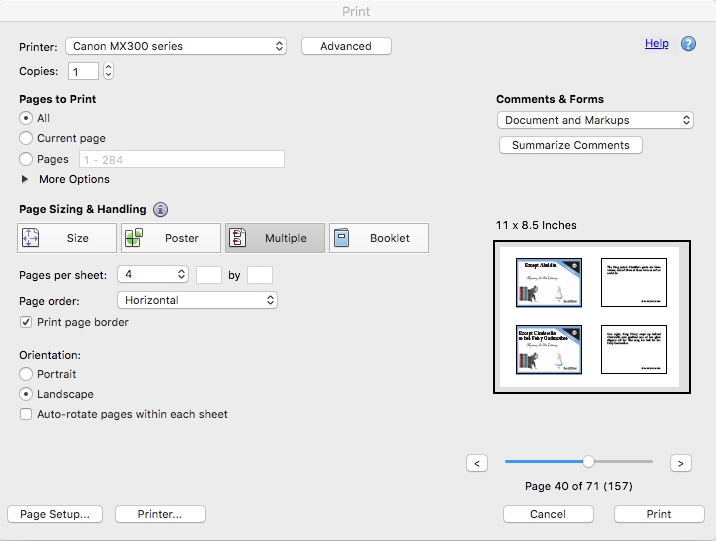 There are also some special printed card game versions available via the Kickstarter campaign with an extra 20 or 50 characters or mostly female characters.
Even a pledge as little as $1
would really help because when Kickstarter sees that a lot of people like your project, they show it to more people. Thanks so much for any help you can give. I really appreciate it.
NOTE: 
The way Kickstarter works is that your credit card doesn't get charged until the end of the project and if all the money ($4800) is not raised, no one gets charged.

Mystery In The Library
Thanks for being part of the mystery!
All the best
Stephanie
Stephanie Chambers
Director – Merri Mysteries Inc