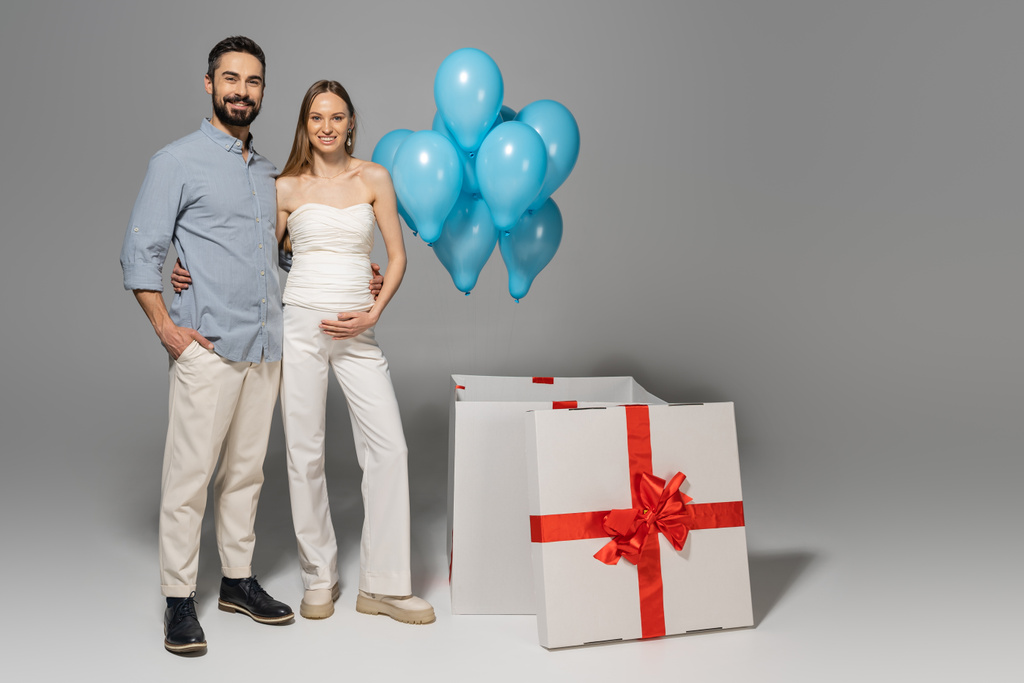 Whether popping balloons or cutting cakes, gender reveal parties sprinkle extra magic on the joy of impending parenthood. This happy occasion is not just about unveiling whether it's a boy or a girl; it's a celebration of life and the thrilling journey ahead. So, how do you organize an event that lives up to this moment? Buckle up as we guide you on how to throw a gender reveal party that's as unforgettable as the little mystery it honors.
It's All About the Big Surprise
Think of a gender reveal party as the curtain-raising to their first act in life. It's when suspense meets confetti—a celebration where parents-to-be, along with their family and friends, learn the gender of the future new arrival. It's a relatively new tradition but one that has quickly become a must-do for many families. And unlike baby showers, which can happen multiple times, the gender reveal is a one-time, high-stakes reveal that's all about the big surprise.
Timing the Celebration
Timing is everything. Host your gender reveal party between the 20-week scan and the 30-week mark. This sweet spot ensures you have crucial information from your doctor and still gives you plenty of time to plan the baby's nursery based on the reveal. Just make sure to keep the baby's gender secret throughout that time.
Planning an Unforgettable Gender Reveal Party
Now, let's get down to the business. Here are some tips on how to throw a gender reveal party that goes beyond popping pink or blue balloons and cutting cakes.
Planning the Basics
Start with a checklist. Date, check. Venue, check. Guest list, check. The venue sets the stage—a cozy living room, a sunny backyard, or even a virtual party for distant loved ones. Consider your comfort, weather, and convenience when planning.
Selecting a Theme
Themes can range from classic storybooks to pop culture references. How about a "Prince or Princess" theme or "Staches or Lashes"? Let your personal interests or passions inspire the gender reveal party's motif.
Sending Invites
Spark excitement with creative invites that play up the mystery. Phrases like "He or She, Open to See!" can get everyone buzzing with anticipation. Sending digital invites? Consider including interactive elements like a countdown to the event.
Picking Decorations
Transform your space with a balanced palette of pinks and blues. Set a backdrop with a question mark motif for photos and a central area for the reveal itself.
Preparing the Menu
Curate a menu that plays on the theme with items like "Bun in the Oven" sliders or "Poppin' Pink Popcorn." Mocktails like "Blue Moon" or "Pretty in Pink" punch keep everyone in high spirits without the spirits.
Capturing Memories
Prepare to document the special day with a hired photographer or a DIY photo corner with a Polaroid camera. Consider including props that guests can write their predictions on, doubling as a keepsake.
Planning the Reveal
This is the centerpiece of your party. Engage a local artisan to craft a custom reveal device, like a box of handmade butterflies that flutter out in the gender-representative color. Prioritize eco-friendly and safe options to keep the party guilt-free and inclusive. Or better yet, reveal the gender through a game!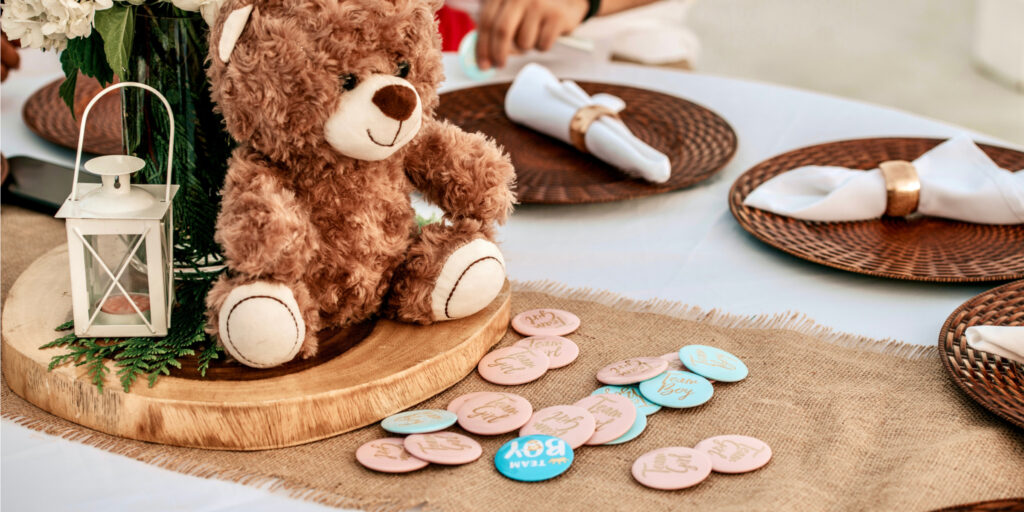 Fun Games and Activities for Gender Reveal
While the reveal is the peak, the climb should be just as fun. Here are some fun games for gender reveal you can consider:
Gender Guess Lip Sync Battle: Teams lip-sync to songs with "man" or
"woman" in the title; their performances could sway the audience's guesses.
Customized Trivia: Create a quiz blending personal couple's trivia with gender myth questions for a personal touch.
DIY Onesie Decorating Station: Set up a craft station with pink and blue fabric markers and let guests decorate a onesie with their gender guesses.
Gender Reveal Piñata: Instead of traditional candy, fill a piñata with colored party favors that reveal the gender when burst.
Bottles Up Race: Have guests race to drink a beverage from baby bottles. The first to finish makes the next gender guess.
Need more ideas for gender reveal party games? Check out our post about free gender reveal party ideas.
How About Using a Fun Gender Reveal Kit?
Opt for a heart-warming and safe reveal with Merri Mysteries' gender reveal party kit, crafted for moments that call for cheer. This clever kit comes prepared for any outcome—be it a charming little lad or a delightful little lady. Are you expecting an extra bundle of joy? Our kit seamlessly adapts for twins, allowing you to announce a boy and a girl in one joyous go. 
With our gender reveal kits, your guests will dive into a series of engaging puzzles, leading them to the grand revelation tucked inside a special parcel. As the suspense builds, their sleuthing will not only reveal the much-anticipated pink or blue but reward them with the contents of the parcel to cherish as a keepsake.
No roles are necessary to enjoy the thrill of the reveal, but for those who love a dash of drama, we've sprinkled in some character suggestions to spice up the dress code. Embrace the fun, dress up, and let the games begin!
Cheers to New Beginnings!
Your gender reveal party isn't just a revelation—it's the story of the beginning of a new life, told in color and cheer. It's where friends and family come together to share in the suspense and joy of your growing family. With these tips, you're ready to host a gender reveal that's not just a party but also a treasured memory. Remember, the true spirit of this celebration is the love and excitement for the baby to come, whether wrapped in blue, pink, or rainbows.