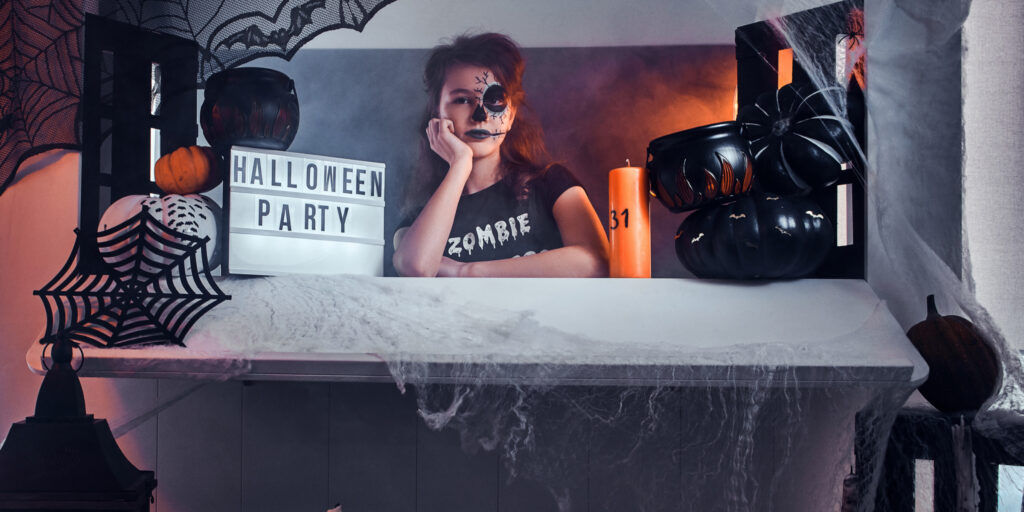 Whether you're planning a spooky-themed birthday bash or a gathering of tweens on Halloween, we've got you covered with thrilling activities and games. Join us as we explore Halloween party ideas for tweens that will ignite their imagination and create unforgettable memories. And for the ultimate Halloween adventure, we'll introduce you to some captivating mystery party games from Merri Mysteries!
1. Haunted House Party: Transform Your Home into a Spine-Chilling Area
Transform your home into a haunted house for a spine-chilling Halloween gathering. Set up different rooms with unique themes, such as a mad scientist's laboratory, a haunted graveyard, or a witch's lair. Use eerie lighting, spooky sound effects, and interactive elements like hidden surprises or actors dressed in scary costumes. Of course, don't forget about the food! Provide treat stations throughout the haunted house, ensuring your tweens have plenty of delicious treats to enjoy along the way.
2. Celebrity Celebrations Mystery Party Game: Lights, Camera, Mystery!
For theatre-loving tweens or Glee Club members, the Celebrity Celebrations Murder Mystery Party Game is a perfect choice. This game takes the excitement of Halloween and combines it with the thrill of solving a murder mystery. The tweens will assume the roles of celebrities attending an exclusive Halloween party.
With glamorous costumes and intriguing character profiles, they will immerse themselves in the world of fame and intrigue. As the night unfolds, they will collect clues, interrogate suspects, and find out the truth behind a shocking crime. This murder mystery party kit will likely keep your tweens engaged and entertained!
3. The Superhero Mystery Party Game: Unleash the Power Within
Is your 11-year-old son a Marvel or DC fan? Are his friends the same? Then, the Superhero Mystery Party Game is a thrilling choice for his costume party or Halloween celebration.
There's a reason it's one of the best Halloween party games for tweens. It will allow your son and his friends to step into the shoes of extraordinary crime fighters and work together to solve a perplexing mystery. With action-packed storylines, exciting challenges, and a dash of superhero flair, the tweens will embark on an unforgettable adventure. Also, encourage them to come dressed as their favorite superheroes and engage in thrilling role-play.
4. Escape Room Adventure: Embark on an Unforgettable Halloween Quest
Create a thrilling Halloween-themed escape room experience at home for your tweens and their friends. Set up a series of challenging puzzles, riddles, and clues that the tweens must solve within a specified time limit to escape the room. Incorporate spooky elements and decorations to enhance the atmosphere.
You can create a storyline with Halloween-themed twists or find DIY escape room kits online. For instance, check out the Party Escape kit here at Merri Mysteries.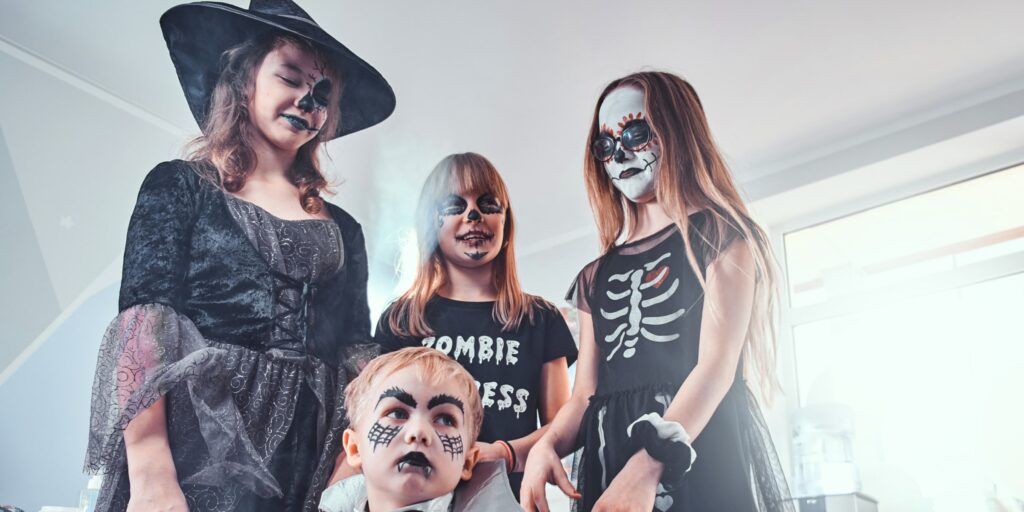 5. Mystery in the Library: A Whodunit Among the Books
Looking for Halloween party ideas for tweens who are book lovers and enjoy a good mystery? We've got the perfect game in mind: Mystery in the Library.
Set in a mysterious library, this immersive and interactive experience will transport your tweens into a world of hidden secrets and literary intrigue. As they navigate through the twists and turns of the library, they will encounter fascinating characters, solve puzzles, and ultimately uncover the truth. Encourage your tweens to dress as their favorite book characters or literary icons to enhance the atmosphere.
As a great murder mystery party idea perfect for Halloween and any other spooky-themed celebrations, Mystery in the Library will engage minds, stimulate curiosity, and provide a unique Halloween experience for young bibliophiles.
6. Under the Starry Night Sky: A Chilling Outdoor Movie Experience for Halloween
Want a chill yet spooky party experience for your tweens? Set up an outdoor movie night with a Halloween twist. Create a cozy outdoor cinema with blankets, cushions, and a large screen. Choose Halloween-themed movies that are age-appropriate and provide a spine-chilling atmosphere. Looking for great Halloween party food ideas for tweens? Serve popcorn, candy apples, and hot chocolate to keep your tweens warm and satisfied while they enjoy the movie under the stars.
Additional Halloween Party Tips to Impress Tweens
Impressing tweens can be challenging, but with the right approach and considering their interests, you can plan a Halloween party or spooky birthday celebration that will excite them. Here are more tips to pull off any Halloween party idea for tweens:
Set an eerie ambiance by decorating the venue with more Halloween-themed props, such as cobwebs, pumpkins, and spooky lighting.
Organize a costume contest and award prizes for the most creative, scariest, or funniest costumes. Consider having different categories to accommodate different costume types.
Incorporate themed snacks and treats like "Witch's Brew" punch, "Monster Mash" cupcakes, and "Mummy" hotdogs. You can also set up a DIY candy bar where tweens can fill their goody bags with their favorite treats.
Create a spooky playlist filled with Halloween-themed songs and sound effects to add to the atmosphere. Include spooky soundtracks from popular Halloween movies, or create a playlist to get everyone in the Halloween spirit.
Set up a photo booth with Halloween-themed props and backdrops, allowing your favorite group of tweens to capture memories of the frightfully fun night. Provide costumes, masks, and props and encourage them to take fun and spooky photos throughout the event.
You're All Set!
With these spooktacular Halloween party ideas for tweens, you're all set to host a memorable and thrilling celebration. Whether your tweens prefer the glitz and glamor of the Celebrity Celebrations Murder Mystery Party Game, the superhero adventure of The Superhero Mystery Party Game, or the literary intrigue of Mystery in the Library, Merri Mysteries games will take their Halloween experience to the next level. Additionally, consider incorporating other exciting party ideas like an escape room adventure, a haunted house party, or an outdoor movie night to elevate the Halloween fun. So what are you waiting for? Get ready for an evening filled with excitement, mystery, and unforgettable moments.