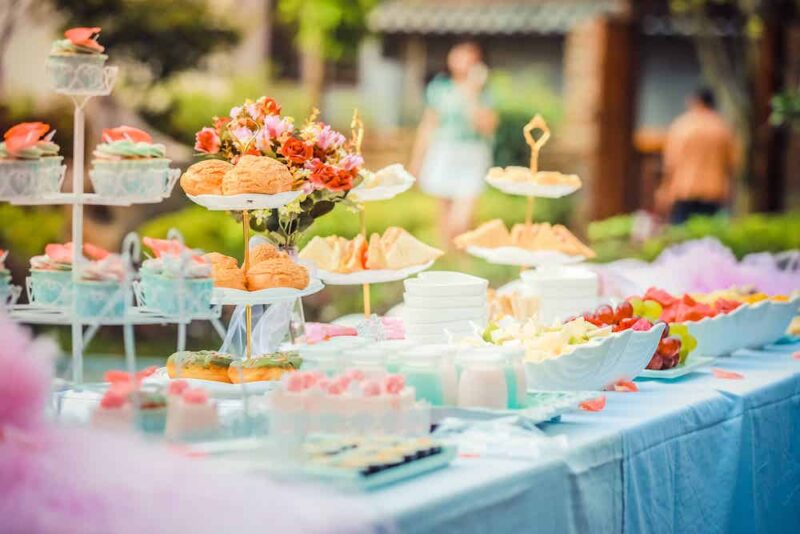 Planning a birthday party for your teenager can be exciting and rewarding. As they enter their teenage years, their preferences and interests may have evolved, and it's essential to create a celebration that reflects their unique personality. From selecting the perfect theme to incorporating engaging party activities for teens and choosing memorable party favors, every detail plays a significant role in creating the ultimate birthday party experience.
Choosing the Perfect Party Theme
Planning a birthday party for young teenagers can be exciting and challenging. As they transition into adolescence, their interests and preferences evolve rapidly, making it crucial to select a party theme that will resonate with them. We go through the top birthday party themes for teens below. 
Outdoor Adventure Party
This theme is one of the more adventurous birthday party ideas for teens. Young teenagers often have boundless energy and a sense of adventure. Organizing an outdoor adventure party can be an excellent way to engage them in thrilling activities. Consider options like a day at a local adventure park, where they can enjoy zip-lining, rock climbing, and obstacle courses. Alternatively, plan a hiking or camping trip in a nearby natural park, allowing them to explore the outdoors, bond with friends, and participate in team-building activities. 
Sports and Game Day Party
A sports-themed party can be a winning choice if your young teenager loves sports or enjoys friendly competition. You can reserve a local sports facility, such as a basketball court or soccer field, where they can engage in their favorite sports. Alternatively, you can set up different game stations in your backyard, offering options like mini-golf, bean bag toss, or a friendly basketball shootout. Encourage team play and healthy competition, and provide small prizes for winners to add excitement to the event. Or you can use a sports-themed mystery party game like "Out Of The Game" about baseball or "Storm Survivors" about a variety of sports.
Creative Arts Party
Young teenagers often have a budding interest in the arts and creativity. Organizing a creative art party can foster their artistic talents and allow them to explore different mediums. You can arrange a pottery painting session at a local ceramics studio, where they can create their unique pieces. Alternatively, you can set up DIY craft stations at home, offering activities like tie-dyeing t-shirts, creating personalized jewelry, or even a mini art exhibition where they can display their artwork. This party type allows them to express themselves while engaging in a fun and interactive activity.
Gaming Party
In this digital age, many young teenagers love video games. Hosting a gaming party can be a hit among this age group. Set up a gaming zone with popular video game consoles, multiple screens, and various games to suit different interests. Encourage friendly competition by organizing gaming tournaments or multiplayer challenges. Consider providing comfortable seating, snacks, and refreshments to create a fun and immersive gaming experience. 
Movie Marathon Party
Movies are a universal source of entertainment, and young teenagers enjoy watching their favorite films with friends. Plan a movie marathon party where they can enjoy a selection of their preferred movies. Create a cozy atmosphere with bean bags or comfortable seating arrangements. Set up a concession stand with popcorn, snacks, and drinks to enhance the movie-watching experience. To add excitement, you can incorporate fun elements like a movie trivia game or a "dress as your favorite movie character" theme.
Engaging Activities for Teenagers
To make the birthday party unforgettable, it's essential to include engaging activities and fun birthday games for teenagers, to cater to your teenagers and their friends' interests. Here are some exciting ideas to consider: 
Karaoke Extravaganza
Karaoke is a tried-and-true party activity that guarantees a lot of laughter and entertainment. Set up a karaoke system with a wide selection of popular songs that appeal to the teenage crowd. Please encourage your guests to showcase their singing talents by belting out their favorite tunes. Provide a staging area with microphones, colorful lights, and a backdrop for an authentic karaoke experience. Consider organizing a contest or awards for the best performances to add a competitive element to the fun.
Fashion Show Spectacular
For fashion-conscious teenagers, a fashion show-themed party is a fantastic choice. Set up a runway in your living room or backyard and invite your guests to dress up, create unique outfits, and strike a pose. Encourage creativity by providing a variety of clothes, accessories, and props for them to mix and match. Consider playing upbeat music and announcing each model as they strut their stuff. You can even include judges or allow teenagers to vote for the best outfits. This activity unleashes their inner fashionistas, boosts confidence, and creates a memorable experience.
DIY Craft Stations
Teenagers often enjoy hands-on activities that allow them to express their creativity. Set up DIY craft stations where guests can engage in various artistic endeavors. Provide materials and instructions for jewelry making, customizing phone cases, or decorating tote bags. This allows them to create personalized items they can take home as a reminder of the fun they had at the party. Encourage collaboration and interaction among the teenagers by setting up stations to work together on group projects, such as creating a large mural or designing a friendship quilt.
Outdoor Adventures
If weather permits, an outdoor adventure-themed party can be a thrilling experience for teenagers. Organize exciting activities such as a treasure hunt, obstacle course, or a friendly sports competition. Divide your guests into teams and set up challenges that test their physical abilities and problem-solving skills. This not only keeps them engaged but also promotes teamwork and camaraderie. Consider incorporating water-based activities, like water balloon fights or slip 'n' slide races, during the summer months to cool off and add an extra element of fun.
Gaming Zone
Video games, board games and mystery party games are perennial favorites among teenagers. Set up a designated gaming area with popular consoles or engaging board games. Provide comfortable seating and create a competitive atmosphere by organizing tournaments or multiplayer games. This allows your guests to bond over friendly rivalry and enjoy friendly competition. Consider offering prizes for winners or creating a leaderboard to heighten the excitement.
Party Favors to Delight Your Guests
Party favors serve as a token of appreciation for their presence and add excitement to the celebration. In this article, we will explore various options for party favors, ranging from classic choices like candy and treats to higher-budget items that will leave a lasting impression on your guests.
Candy and Treats
A timeless and crowd-pleasing option for party favors is candy and treats. Fill colorful goody bags with candies, chocolates, and small treats that cater to different tastes. Consider including nostalgic candies or personalized treats like cookies or cupcakes with the guests' names or initials. This sweet gesture will surely bring smiles to your guests' faces as they savor their goodies.
Personalized Items
For a thoughtful and memorable party favor, consider offering personalized items that reflect the theme or interests of your party. This can include customized keychains, bookmarks, or mini photo frames with pictures taken during the event. Personalization adds a special touch and makes the favor unique to each guest, ensuring they will treasure it as a memento of the celebration.
DIY Crafts
Another creative and interactive idea is to provide DIY craft kits as party favors. Include materials and instructions for friendship bracelet making, mini-painting, or slime-making kits. DIY crafts entertain your guests during the party and give them something to take home and enjoy at their leisure. These favors encourage creativity and provide a lasting reminder of the fun they had at your event.
Higher Budget Items
If you have a larger budget and want a lasting impression on your guests, consider splurging on higher-budget items as party favors to have the best teenage birthday party. These can be tailored to match the interests of your guests and can include items like mini-Bluetooth speakers, portable phone chargers, trendy accessories, or small gadgets. These gifts offer practicality and can be used long after the party, ensuring guests remember the special occasion every time they use the favor.
Themed Souvenirs
Aligning your party favors with the theme of the celebration adds an extra touch of cohesiveness and charm. For example, if you're hosting a movie-themed party, consider giving away small popcorn containers filled with flavored popcorn or mini cinema-themed items like film reel keychains. For a sports-themed party, customized water bottles or mini sports equipment like stress balls can be great choices. Themed souvenirs serve as mementoes and enhance the overall experience and make the favor more memorable.
LOL Surprise Gifts
For teenagers who adore the LOL Surprise dolls, including LOL Surprise gifts as party favors will bring joy and excitement. These collectable toys provide an element of surprise and delight. You can find a wide range of LOL Surprise gifts. From mini dolls to playsets and accessories, plenty of options will make your teenager's friends thrilled to take home a piece of the party.
Remember to involve them in the planning process, considering their interests and preferences every step of the way. Whether you opt for a themed party, engage in exciting activities, or select the perfect party favors, the key is to create an atmosphere that allows your teenager to have a fantastic time surrounded by their friends and loved ones. By putting thought and effort into every aspect of the party, you'll create an experience that celebrates their special day, creates lasting memories, and strengthens the bond between you and your teenager.