Whether you're planning to celebrate Christmas in July or December, you have to host a fun and memorable Christmas party. And what better way to celebrate than with some festive games that will bring the whole family together? But if you're like most people, you're probably tired of the same old boring Christmas games. So here's an idea: plan and host an exciting Christmas murder mystery party.
Now, we know what you're thinking, "murder mystery games at a Christmas party?" But trust us: it's the perfect addition to any holiday gathering. It adds a touch of mystery and excitement to your party—and it's a great way to get your guests involved and engaged in the festivities. Plus, who doesn't love a good murder mystery?
So without further ado, here are our top tips on taking your Christmas games to the next level with murder mystery games:
1. Choose the right mystery game.
First things first: choose a Christmas murder mystery game. You have plenty of options, so take some time to find one that fits your party's theme and size. But let's make it easy for you. Here are two of our best holiday games here at Merri Mysteries:
Santa won't be going down any chimney this year because he's dead—and possibly murdered! So let your guests find out the truth. Did someone not want Santa to be there? What was the motivation—was it revenge for an ugly present last year?
"Who Killed Santa?" is a fun Christmas mystery game. It's available in a kit for eight guests (but customizable for up to 104 guests). You can use it as a play for a small group or as an informal mingling kit for a large group. It's also available in an all-girls version kit. No matter which kit you buy, one thing remains true: it's one of the best Christmas party games for large groups!
When Ed Dockafeller passed away, he left a will saying his five children must do various things before they could receive their share of his estate. But here's the thing: his son Nathan was murdered. Who killed Nathan, and who would get his share of Ed's inheritance?
A perfect murder mystery for your Christmas party, "Fame, Money, and Murder" is great to play with family and friends. Let your loved ones hilariously act out scenes focused on family feuds. Your family dynamics would likely make the game more interesting! But note that this game is not suitable for young teens. Just let the adults battle it out and put their detective hats on to win this fun holiday game.
Looking for Christmas games for teens? Check out our blog on ten murder mystery party games for teenagers.
2. Get into character.
Once you've chosen your Christmas mystery game, it's time to get into character! Assign roles to your guests and encourage them to embrace their character fully. Tell them they can dress up to get into their role. The more your guests get into character, the more fun and engaging the game will be.
If your guests need help with their outfits, try to lend them some pieces from your wardrobe. They may not even have to dress up! As long as everyone gets into their roles, the Christmas murder mystery party will be a hit!
3. Create a festive atmosphere.
Murder mystery games can be a bit intense, so it's important to create a festive atmosphere to balance it out. Decorate your party space with Christmas lights, garlands, and other holiday decorations to create a cozy and festive atmosphere. You can even play Christmas music in the background to add to the ambiance.
4. Serve holiday-themed drinks and snacks.
What's a Christmas party without some festive drinks and snacks? Serve some holiday-themed cocktails like eggnog or peppermint martinis, and don't forget the snacks! Let your guests enjoy classic holiday treats like gingerbread cookies, fruitcakes, or even a Christmas ham.
Or add an international flavor and serve Christmas cakes and cookies from different countries like Panettone from Italy, Yule Log from France, Stolen from Germany or Allahabadi cake from India. Not only will it add to the festive atmosphere, but it'll also keep your guests fueled and ready to solve the murder mystery.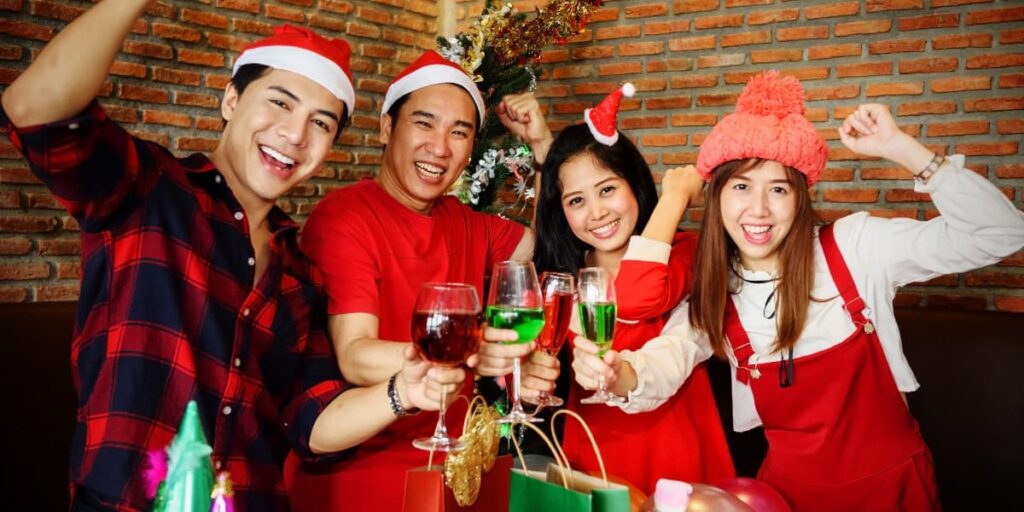 5. Keep the game moving and make it interactive.
Murder mystery games can be a bit slow at times. So make sure to keep the game moving. Encourage your guests to interact with one another and to ask questions to help move the story along. You can add timed events, challenges, clues, and puzzles to keep things interactive while moving the plot.
6. Don't forget to have fun!
Most importantly, don't forget to have fun! Murder mystery games can be chaotic and intense, but they're also a lot of fun. Encourage your guests to let loose and get into the game wholeheartedly. And remember that the more fun you have, the more fun your guests will have. So share your infectious laughter with others!
We're excited for you.
So, there you have it, our top tips on taking your Christmas games to the next level with murder mystery games. It's the perfect addition to any holiday party and will keep your guests entertained and engaged. So, what are you waiting for? Start planning and get ready to solve the ultimate Christmas murder mystery!