This is a great choice for an all boys mystery party.
A boys pirate play full of fun pirate sayings, words & phrases
Columbus had sailed the ocean blue and discovered America and he was being brought back to Spain when pirates overtook the ship he was on. The rest of the crew was set off in rowboats. Your job is to work out which pirate kidnapped him and kept him on board or why Columbus pretended to be kidnapped.
Reading level: 6
There is a special version for all boy parties and some girls can play this pirates mystery as well!
The school version comes with teacher's notes.
Pirates mystery versions and samples:
More details on this pirates mystery:
See the sections below for more details:
Overview
It's Columbus's third voyage. He'd already sailed the ocean blue and discovered America (although he still thinks he went to part of Asia) and he was being brought back to Spain for investigation when pirates overtook the ship he was on.
The rest of the crew was set off in rowboats for the nearby coast of Spain. Most thought Columbus was with them, but he has just been discovered missing. Your job is to work out which pirate kidnapped him and kept him on board and why they did this or why Columbus pretended to be kidnapped.
Excerpt
Clegg: "He (Columbus) got all of his calculations wrong and he just discovered land by mistake. Why he thinks he reached Asia! That's absurd. He's an embarrassment to all serious explorers."
What They've Said
Janet Umlauf sent in this feedback about her party:
"Hi Stephanie,
We had another super successful Mystery Dinner party with your Kidnapped by Pirates. I've enclosed pics of decorations in this email. I will enclose general pix in another. Our teen group and leaders go all out! Super fun. The characters were really fun. I added several as we had additional people coming…One-Eyed Jane and Gun-Powder Gertie were 2 gals I added.
We had a big sail at the entry way–the way to enter our "ship" The Jolly Roger. Then we had the table in the captains quarters. Hidden underneath was an ipod dock where we had pirate music playing all evening. We created a couple of spots for pictures. Davy Jones Locker with our dead pirate at the bottom of the sea and the giant pirate flag on the wall. We served cool Pirate snacks and behind the food tables there are portholes. We had oil lamps along with a variety of weaponry on every table. I had so much fun putting everything together!
Janet Umlauf"
Here are some great photos from her party:
The whole group from Kidnapped By Pirates 
An example of the decorations:

An action shot: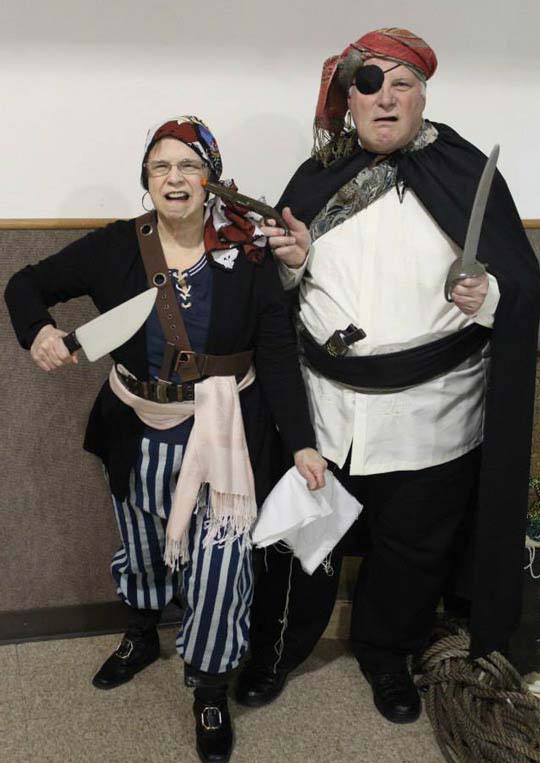 Invitations
Reading level
Note: The reading levels of each kit (not just "page" as it says below) were determined by copying and pasting the kit (play version), into The Readability Test Tool (see www.read-able.com).
Characters
The suspects present at the party are:
Christopher Columbus
I am an explorer, colonizer and navigator. The King and Queen of Spain funded my voyages and established me as governor of Hispaniola. But the colonists had complained about my rule, and they had sent an investigator to bring me back and now pirates have kidnapped me.
Captain Blood
I was orphaned as a child and thus had to learn how to fend for myself. When I'm not pirating, I'm usually stealing or robbing people. Because of the cold exterior I've had to build over the years, I've earned my nickname.
Quartermaster Jack
I am from Britain and I have spent my whole life on various pirate ships. Although I am a thief, I am a kind one and I try to divvy up the bounty as fairly as I can. I am also the one that assigns all the work. I'm the captain's right-hand man.
Pugwash
I got this nickname because I am a scaredy-cat. I jump at the dark, when I think I've seen a mouse, etc. Because I am so afraid, I do not wear a patch over my eye as other pirates do. I'm the boatswain, the one who orders all the supplies and I inspect rigging every morning.
Powder Monkey
It's my job to bring up the gunpowder from below deck when the cannon crews need it. I do this and other roustabout chores. Sometimes I also help swab the deck.
Clegg
I am very good at mathematics. I'm in charge of all the maps and help navigate our course across the oceans. Women love me, as I'm very smooth with words and moves. However, although I am good at mental calculations, I am not very good at practical things that involve my hands.
Surgeon Grinandbearit
I was originally kidnapped but I have settled into the pirate lifestyle. Sometimes I have to amputate which is how I got my nickname.
Minstrel Mike
I'm the musician on board so everyone loves me. I try to keep everyone's spirits up during the seemingly endless days on board. Sometimes I also dance around a bit while I play – after all we all like to party and that's why we became pirates.
Cordon Cornbeef
I'm the cook. Sometimes rations run very low so I have to make a little stretch a long way. It isn't easy. But when we've got new supplies from boats we've plundered I get to make it a bit more fancy.
Jose
I'm Spanish. I'm new to being a pirate, so "new to the ropes" as they say. It's more fun than growing corn and I really love learning all there is to learn about sailing and I love being at sea.