Below are some photos and feedback from people that have held online virtual / video parties during the Coronavirus (COVID-19) Pandemic. They are also the winners of the ongoing photo / decoration competitions for this month.
---
Mystery In The Library virtual party
Desireé Bronleewe sent in this feedback and photos:
"Thank you! It turned out great, and my son was so happy. We used zoom. This way we could change the name on there to our character names. Plus, I even found a fantasy background to use for those of us whose computers would do it. Easiest decorating ever!!
We just stopped a session between Acts to eat and such. I sent pics of the food etc so the grandparents could enjoy with us. They sent their food pictures to us. Then, back on for the next Act. My uncle lives with us. This meant we would have 9 parts, not 8. So, I took the host parts and turned it into a narrator part for him. That way he could be involved. He loves wearing a suit, so he had fun dressing up for the part.
The single page per person was great. The way you packaged the files for me worked wonderfully. We had a lot of fun.  I'll send a couple of candid pics someone took. Pinocchio is missing his nose as he couldn't read with it on. 🙂  Everyone dressed up as they could. These aren't stellar pictures, but you can at least get an idea of how it looked for us. Despite quarantining, we all felt like we were together for the birthday party. My mother says, "The game was great."
Marla West / Couch sent this feedback and photos:
"It was awesome 
 
Everybody loved it we had a blast!
With social distancing of course we had to do face time for three of the characters."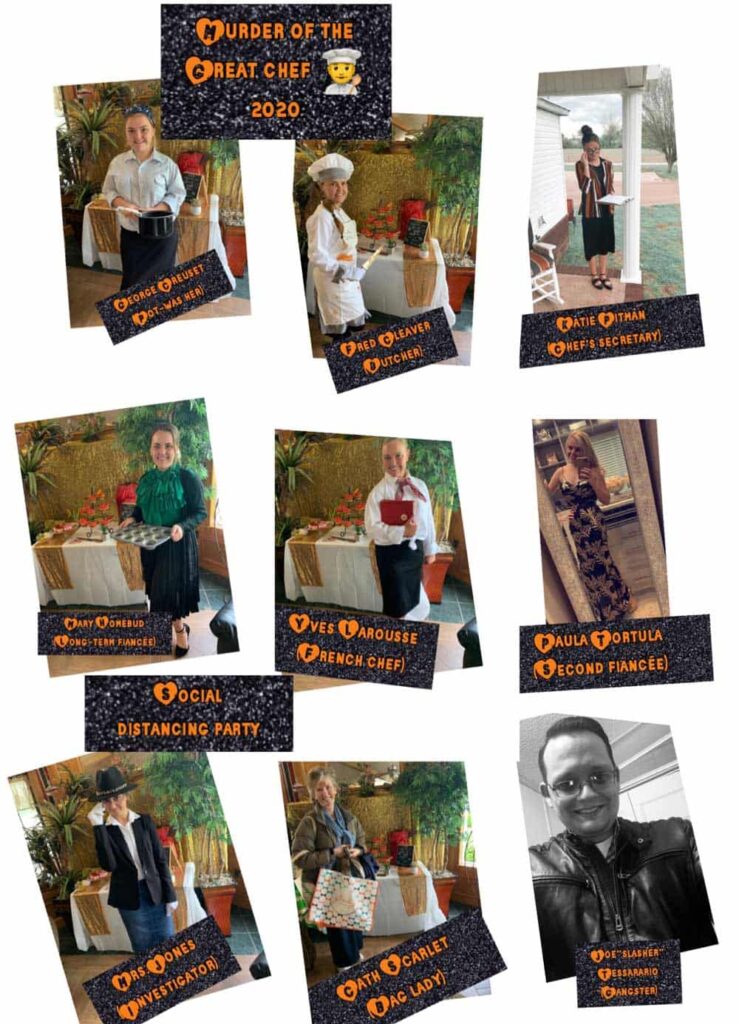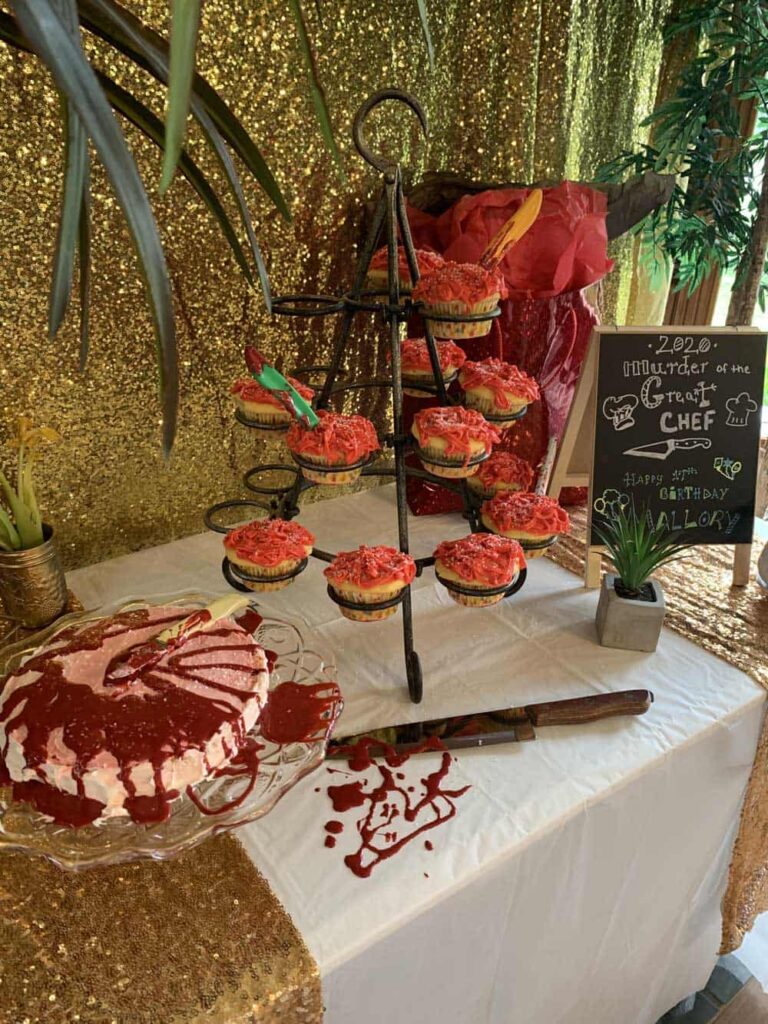 Other news about our virtual parties
I have created a video-friendly version of Prom Pandemonium for 8 guests so that teens can still celebrate their graduation.
Don't forget the all girl video friendly version of "The Balmy Bahamas Cruise".
Besides the video friendly version of "Murder In Outer Space", I have also created a new meet and mingle version for 17 to 30 guests (for after the Pandemic when normal life will probably feel as weird as life in space).
15% of all my sales during the Pandemic will go to Feeding America. 
Our other ongoing competitions
Would you like to enter some of your photos or videos and win a free mystery party game kit of your choice? See photo competition, decoration competition and video competition for details.
You could take a screen dump during video party showing of all your guests dressed up! Please download the permission form and email it to all your guests. Ask each person to sign it and take a photo of it after it is signed and email it to you and them email them all on to me.

Thanks for being part of the mystery! And wishing you good health during the Pandemic.