As 2019 begins, maybe it's time to think about your life and about your friends. How many of your Facebook friends do you actually get to meet with face to face? 
Why connect face to face?
Sometimes hosting a party can help you connect with a lot of the people you love all in one go. There is something special about seeing how they dress as their character, the goofy accent they adopt and hearing them laugh at the jokes.
You just don't get that when you have only virtual connections. It's like how watching a movie at home is different to being in an audience and hearing everyone else start to chuckle as they get the joke. Laughter can be infectious. 
Even if you have video calls, generally there isn't anything funny going on that evokes laughter. You generally don't dress up in a silly costume before you make a call.
What's coming up?
Winner of our ongoing photo competition
Chelsey Uhlenhopp is the winner. See some of her photos above and below. She sent in this feedback from her Who Killed Santa? party:
"We did the 10 person mystery with our family on Christmas Eve. Everyone had a great time. It was fun to see people get into the characters and ad lib along the way. We have lots of younger kids around and they watched the entire time and were engaged. Half of us guessed the killer and half did not. Merri Mysteries really makes it easy – all you have to do is print the PDF's. Thank you for a fun family experience!"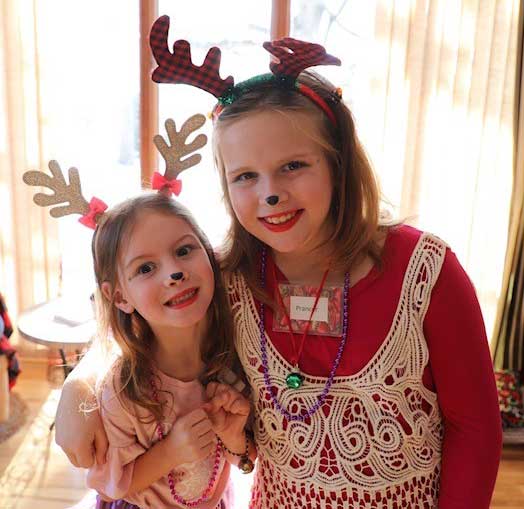 Our other ongoing competitions
We didn't have any entrants in our ongoing decoration and video competitions so there are prizes sitting unclaimed. 
Would you like to enter some of your photos or videos and win a free mystery party game kit of your choice? See photo competition, decoration competition and video competition for details.
Often people find it hard to get permission signatures from people at the party later on. If you think you might be taking some great photos, please download the permission form so you can get it signed at the party and then scan it in and email it to us with your photo competition entry. Or you can take a photo of it after it is signed and email it that way.
Thanks for being part of the mystery!
All the best
Stephanie
Stephanie Chambers
Director – Merri Mysteries Inc