Life can get busy, and sometimes, party planning ends up on the back burner. But fear not! Merri Mysteries is here to save the day with five fabulous last-minute at-home party ideas that will surely impress your guests. From captivating mystery murder parties to other exciting themes, we've got you covered. So, grab your party hat, and let's dive into the world of spontaneous celebrations with our at home party ideas!
1. Mystery Murder Party: Whodunit Delight!
Looking for an unforgettable experience that combines laughter, intrigue, and a touch of suspense? A mystery murder party should be your go-to option. 
At Merri Mysteries, we offer a range of ready-to-play kits that will transport your guests to a world of mystery and excitement. Each kit includes character roles, engaging storylines, and clues to uncover, ensuring an immersive and interactive adventure. Plus, each kit offers good, clean fun! It's suitable for teens and adults; no one will feel embarrassed acting out their role in front of their boss or family. 
Want to enhance your murder mystery party ideas? Decorate your home with dim lighting, mysterious props, and eerie music. You can pick the decor depending on the theme of the mystery murder kit you get. For instance, go for Gatsby-inspired decor for Poetic Justice or a sports theme for Storm Survivors Game. Let your guests dress the part and fully embrace their assigned characters. As the evening unfolds, tension and excitement will build as you collectively solve the murder mystery. Don't forget to award the best detective or most convincing actor at the end of the night!
2. Retro Game Night: Nostalgia and Fun
Take a trip down memory lane with a retro game night that promises laughter and friendly competition. Dust off those classic board games or set up a vintage video game console. Choose a mix of beloved favorites like Monopoly, Scrabble, or Clue, and let the games begin! 
Want to add a nostalgic touch to your place? Set the mood with retro-themed decorations, such as neon-colored balloons or vinyl records as centerpieces. Encourage your guests to come in their favorite throwback attire to embrace the retro vibe. And don't forget about the food! Prepare some simple snacks and refreshments to keep everyone energized throughout the game night. 
Whether it's a strategic Monopoly battle or hilarious wordplay, a retro game night is bound to create lasting memories and ignite a healthy spirit of competition.
3. DIY Pizza Party: Customize and Savor
Who can resist the delectable combination of gooey cheese, mouthwatering toppings, and a crispy crust? A DIY pizza party is a fantastic last-minute option for at-home party ideas, as it allows your guests to get creative with their culinary creations. 
Set up a pizza station with pre-made dough, a variety of toppings, sauces, and cheeses. Provide clear instructions on how to assemble and bake the perfect pizza. Consider offering a range of options, including vegetarian and gluten-free ingredients, to cater to everyone's preferences. 
If you have more time and Italian-inspired decors at home, create a pizzeria-inspired atmosphere with red and white checkered tablecloths, Italian music, and mini flags representing different toppings. Your guests will have a blast customizing their pizzas while enjoying each other's company. Once the pizzas are baked to perfection, gather around and savor the delicious results together.
4. Movie Marathon Madness: Lights, Camera, Action!
Need more at home birthday party ideas for adults? Here's one that's easy to pull off: turn your living room into a cozy cinematic haven and host a movie marathon. 
Pick a theme, such as classic comedies, action-packed blockbusters, or beloved movie franchises. Create a lineup of crowd-pleasing movies that align with your chosen theme and have a selection of snacks and beverages ready for your guests to indulge in. 
To set the scene, dim the lights, arrange comfortable seating with blankets and pillows, and create a mini concession stand with popcorn, candy, and drinks. Consider adding a touch of Hollywood glam by rolling out a red carpet entrance and having a makeshift photo booth where guests can strike their best movie star poses. Throughout the marathon, encourage friendly discussions about the films and enjoy the collective laughter or gasps of excitement. It's a relaxed and enjoyable way to bond over great movies and create a memorable cinematic experience.
5. Indoor Picnic: Nature's Charm Indoors
If the weather isn't cooperating or you simply prefer the comfort of your home, bring the charm of a picnic indoors. Clear a space in your living room or create a cozy picnic spot on the floor using blankets and cushions. Spread out a checkered blanket, pack a delightful assortment of finger foods, sandwiches, and refreshing beverages, and enjoy the laid-back ambiance of a picnic without worrying about bugs or unpredictable weather. 
Want to nail the indoor picnic atmosphere? Incorporate elements of nature by adding potted plants, fairy lights, or even a makeshift tent. Ask your guests to dress comfortably and bring their favorite picnic games or activities, such as card games or board games. You can even play a mystery murder kit if everyone is up for it! The indoor picnic will provide a relaxed and intimate setting for conversations, laughter, and enjoying each other's company.
Recently one of Merri Mysteries clients created a "camp" scene inside their community hall for a "Search For The Truth" mystery party. They even had a fake campfire. Here are some of their photos and their review:
"This was really fun. We did the non-murder version. We all thought it was well written and very complete. About a third of the way through our allotted time I thought everyone had already figured it out. Then they went down a couple rabbit trails and got completely off track.
Only 4 out of 22 guessed correctly. After hearing all the confessions they all agreed that all the necessary hints were there. They were just over-thinking it. 
I wondered if the costumes would be a little boring since it was a camp theme. But everyone came totally in character and our camp scene was a big hit, complete with a "campfire".  I could not get my fir tree to stand straight, thus we named our camp "Crooked Pine Christian Camp". 
Our kids are veterans of Merri Mysteries scripts. We've done a lot of them.  So it was fun that you "got them " this time, Stephanie!
Thanks again for another great evening!
Sincerely,
Jan Umlauf"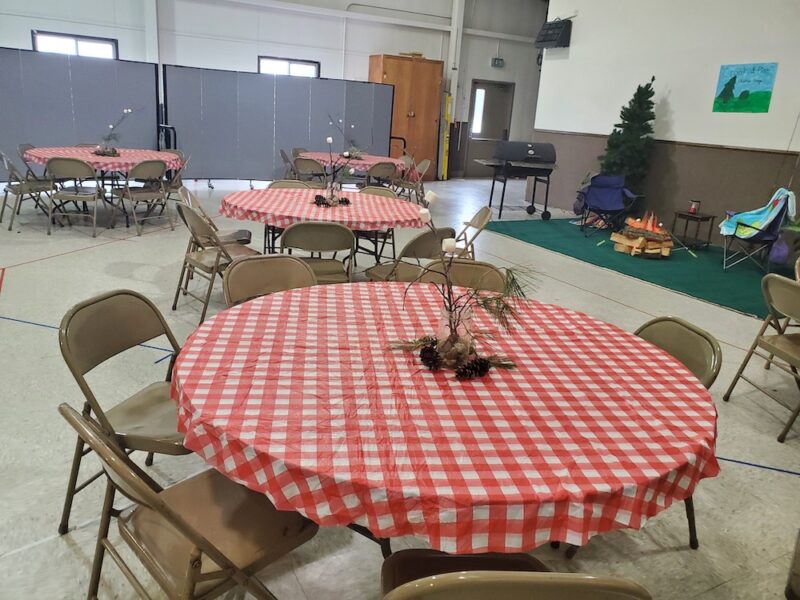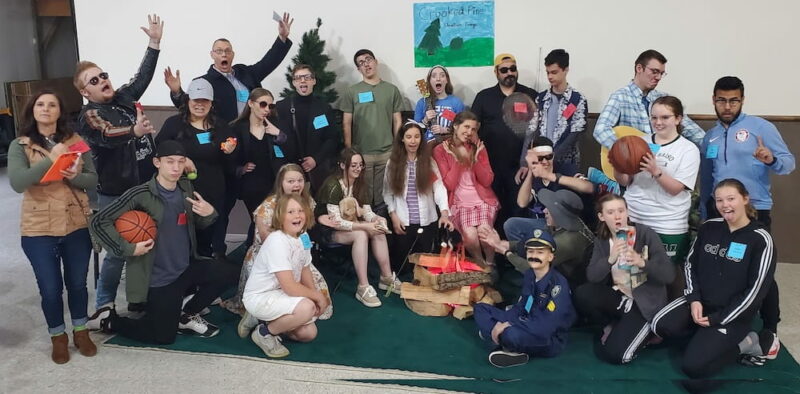 F
inal Thoughts
Even if time is not on your side, you can still ensure your last-minute celebration is a roaring success with our at-home birthday party ideas. Embrace spontaneity, let your creativity flow, and create memories that will be cherished long after the party ends. And remember: with Merri Mysteries, good clean fun is just a mystery kit away!