Which mystery party game is best for St Patrick's Day parties?
We have a mystery party kit for up to 50 guests which is perfect for St. Patrick's Day parties. See The Luck Of The Irish for details and samples.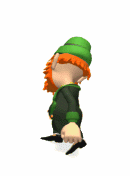 St. Patrick's Day dress
Encourage everyone to wear green for a St Patrick's Day celebration. It can be anything from pointy felt hats and pointy shoes with the toes curled up, to evening dress and green feather boas. Use face paint to paint a shamrock on everybody's cheek. Wear glowing green jewelry.
Note: Our The Luck Of The Irish mystery dinner party kit contains specific costume suggestions for each character.
St. Patrick's Day menu suggestions
Serve all food and drinks on St Paddys Day green – beer, cocktails, salads, cake with green icing, dyed chicken legs, peppermint ice cream, clover shaped sandwiches and cookies (buy cookie cutters) and green candy. Decorate your food with tiny Irish flags. Let your imagination go. Decide on a menu for your St Patricks Day party and then see how many of the foods can be colored green.
St. Patrick's Day decorations
Outside, or just inside the door, have a large rock (the Blarney Stone below). Everyone can kiss this on entering. Tradition says this makes them talkative (the gift of blarney). The rock can be made out of papier mache if a large rock is difficult to find. Guests can kiss the Blarney Stone the way it is done in Ireland – on their backs kissing the stone above them.
Another good thing to have is a pot of gold. This can also be made out of papier-mache and filled with gold wrapped chocolate coins. Have a large cardboard rainbow ending in the pot of gold.
Have green light bulbs or hang green cellophane under lights and decorate the tables with shamrocks or four leaf clovers made out of green cardboard. White tablecloths will make them stand out. Have green napkins or green napkin rings. Shamrocks and four leaf clovers can also be hung from the ceiling and in doorways. Hang green balloons and streamers and Irish flags. Fill the room with green pot plants and throw a green spread over the couch.
---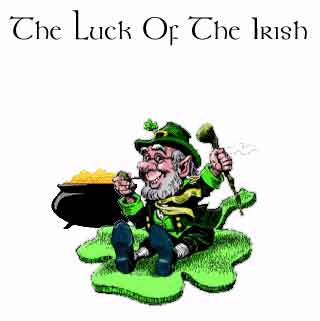 The Luck Of The Irish…
The King of the Leprechauns Roy Gilroy has had his pot of gold stolen. Who was the devious thief?
Perfect for Saint Patrick's Day parties or anytime!
Optional "murder" version sometimes included. The school version comes with teacher's notes.
---
Other St Patrick's day activities
Here are some St. Patrick's Day activities you may like to do:
Limerick Competition: Give each person paper and a pen and ask them to make up a limerick. You may want to give them some ideas for topics like leprechauns, maidens in distress, four leaf clover, dragons etc. Find some original limericks in the library and have someone read them out as examples.
Talent Quest: Run a talent quest with questions based on Ireland and Irish history. For example: What effect does kissing the Blarney Stone have on you? Why are there no snakes in Ireland anymore? What do you use a Shillelagh for? What is a Banshee?
Further information on Saint Patrick
Saint Patrick was born in England but was taken as a slave to Ireland as a youth. While he was in Ireland, he received his calling from God. Later he escaped from slavery and eventually he became a priest. He returned to Ireland and spent over thirty years there converting people to Christianity. He gained the attention of King Laoghaire by lighting a fire on the Hill of Slane just as the King was about to light a fire for a pagan ceremonial bonfire. This fulfilled a prophecy that the keeper of a rival flame would come to this area and eclipse their power forever.
Saint Patrick explained the Holy Trinity (i.e. the Father, the Son and the Holy Ghost) to King Laoghaire using a three-leaved plant (possibly a clover leaf) and gained his support.
In Ireland there are various places that are considered healing because Saint Patrick spent time there. For example, the wells in Struell are said to be therapeutic because Saint Patrick used to bathe there. Dunseverick Castle in Antrim is special because Saint Patrick is said to have ordained St Olcan there.
Nowadays Saint Patrick's Day is celebrated in various areas where Irish people have moved to and it is general celebrations of all that is Irish. People often wear green.
Irish terms
Some other Irish terms:
Leprechaun: In Irish folklore, a leprechaun is a little sprite or goblin. Sometimes ordinary Irishmen and women are also called leprechauns. A sprite is an elf, fairy or goblin. A goblin is a grotesque, mischievous sprite or elf.
Shamrock: A plant with three leaves believed to have been used by Saint Patrick to symbolise the Trinity (ie father, son and the holy ghost). Most people think it was white clover, but it could have been wood sorrel or lesser yellow trefoil.
Blarney Stone: A stone in Blarney Castle near Cork in Ireland said to give anyone who kisses it skills in flattering others.