Find out why hosting a murder mystery party game is one of our great New Years party ideas
New Year's Eve is a happy time – a time to celebrate the New Year and put behind the old one. Bright, happy dance music and lots of bright colors produces an instant fun atmosphere when guests arrive. If you are planning a New Year's Eve party to celebrate, the following tips and party games will get you off to a good start.
Mystery party games can be especially useful if there are people who don't know each other as they can act as an ice-breaker.
Let us help you find the perfect kit for your new year's party:
New Year's party decorations
Here are some ideas for New Year's party decorations that you may like to try:
Light up your house with strings of colored or tiny white lights. String lots of small, white Christmas tree lights around the room.
Hang a large cardboard horseshoe on the door. Horseshoes mean good luck, but they must be hung the right way (ie like a cup) or the luck will fall out.
The more streamers and ribbons decorating the room, the more festive it will look and feel.
Make colorful paper chains and string them around the room.
Have bowls of colorful flowers on the table.
Use bright table napkins and/or place mats.
Have bunches of black, white and silver balloons.
Fill balloons with confetti (use a funnel) and pop these at midnight for some extra celebrating.
Write out 'fortunes' on small slips of paper and put one into each balloon. For example, you could write things like "You will make a lot of money this year", "You will find true love this year" etc.
Make a piñata (a large Mexican hollow papier mache ball filled with candy and small toys) to use as a party game. See www. google.com for directions on how to make one.
Make a large copy of Auld Lang Syne (see below) and stick it on the wall so people will be able to sing all the words when midnight comes.
If you're celebrating Chinese New Year, have abundant displays of flowers in the house. Flowers are believed to symbolize wealth and good career prospects, and live blooming plants symbolize rebirth and new growth. The Chinese also have good wishes, written as couplets on red paper, stuck on the wall. You may also like to have red balloons and red streamers.

 
Here are is a photo from Kari Jone's Fame, Money and Murder party: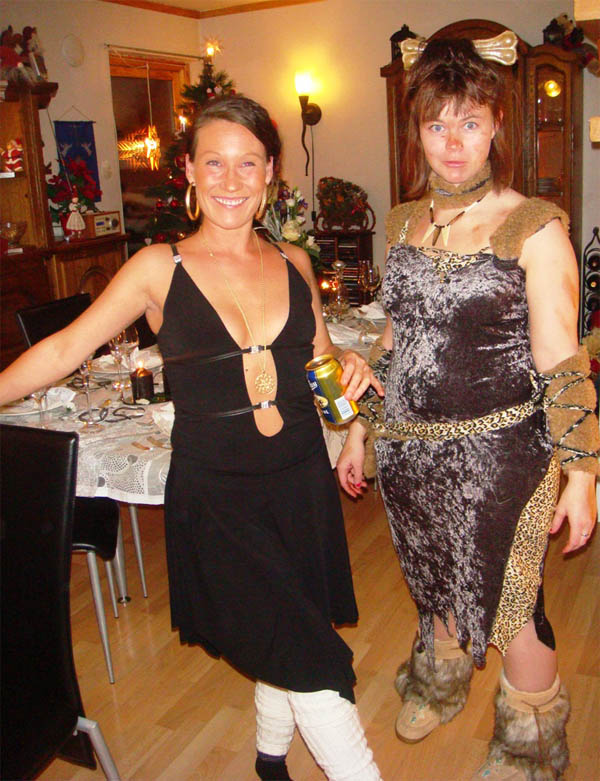 Serena and Pebbles
Auld Lang Syne
Should auld acquaintance be forgot
and never brought to mind?
Should auld acquaintance be forgot
and days of auld lang syne?
For auld lang syne, my dear,
For auld lang syne.
We'll tak' a cup of kindness yet,
For auld lang syne.

Should auld acquaintance be forgot
and never brought to mind?
Should auld acquaintance be forgot
and the days of auld lang syne?
And here's a hand, my trusty friend
And gie's a hand o'thine
We'll tak' a cup of kindness yet,
For auld lang syne.

---
Other New Year's party games
I Resolve …
Write as many New Year resolutions as you can think of on slips of paper. Make them as serious and silly as you like. Fold them and put them in a basket. Ask your guests to take one. If they don't think the resolution is for them, they have to try to give it away to someone else. Have them read their resolution out to the others beginning with "I resolve…" Some New Year game suggestions are:
• Save money. • Eat more chocolate. • Lose weight.
• Exercise less. • Spend more time with friends.
• Spend more money on a loved one. • Play more with your children. • Quit smoking. • Quit drinking. • Read more.
• Talk less. • Make more money. • Give more money to charity.
• Eat honey instead of sugar. • Get a new career.
• Find a new love. • Adopt a dog. • Give up caffeine.
• Learn a new hobby. • Roller skate to work.
• Resolve any problems of the heart. • Go to Church more often.
• Do more volunteer work. • Go on holidays to somewhere romantic. • Surf the net more. • Surf the net less. • Renew old acquaintances.
• Ride a bike. • Stop making resolutions.
Dress to suit the hat
Have a large assortment of hats. Each person selects or is given one hat. They then have to speak and act as they imagine an owner of such a hat would behave. They can even give themselves an accent and a new name. Everyone introduces themselves to the others as that new character.
Paper costumes
Divide the guests into groups of about six. Give each group a bundle of newspaper, some sticky tape, pins, string and scissors. Using one person as a model, each group has 10 minutes to create a costume on that person using just the materials supplied. Headdresses can be included.
Acronyms
Divide the party guests into groups. Give each group a three or four letter acronym that you've made up. The group must decide what the acronym stands for and what the company does and then tell the group all about the company.
New Year's party food
Traditional New Year foods are thought to bring luck. Many cultures believe that anything in the shape of a ring is good luck, because it symbolizes "coming full circle," completing a year's cycle. For that reason, the Dutch believe that eating donuts on New Year's Day will bring good fortune.
Many parts of the U.S. celebrate the New Year by eating black-eyed peas usually accompanied by hog jowls or ham. Black-eyed peas and other legumes have been considered good luck in many cultures, and the hog symbolizes prosperity. Cabbage is another "good luck" vegetable, and in some regions, rice is the "lucky" food that is eaten on New Year's Day.
Some menu suggestions for sit-down dinner:
Menu A
Caesar Salad
Carved Sirloin of Beef, Porcini Mushroom Sauce
Roast Glazed Breast of Turkey
Assorted Grilled Vegetables
Wild Rice Pilaf
Tortellini Alfredo
Assorted Breads, Rolls and Butter
Assorted Miniature Pastry (for dessert)
Tiramisu
Coffee, tea and chocolates
Menu B
Mesculine Greens with Raspberry Vinaigrette
Roasted Red Pepper & Portabello Mushroom Soup
Angus Prime Rib
Poached Salmon Tenderloins in a Dill Cream Sauce
Vegetarian Florentine Pasta
Light & Dark Cake
Spiced Carrot Cake
New York Cheese Cake
Coffee or tea
If you don't want to spend a lot of time in the kitchen, finger food is the way to go:
Nachos and salsa
Pretzels
Crisps
Nuts
Vegetable and dip
Chicken wings
Mini pizzas
Pigs in a blanket (a prune wrapped in bacon and grilled)
An assortment of cheeses.
Great New Year recipes are available on the Internet. Go to www. google.com and type in "New Year dinner".
Our Games Are Perfect For