I used to walk down the street in a dark blue off-the-shoulder satin ball gown with thin blue straps. It was beautiful. The girl across the road and I would walk to her Grandmothers at the end of our street. I was around nine years old and there wasn't much else to do in small town Coffs Harbour on a Saturday afternoon.
My mother had worn that gown when she was in her twenties and working as a nurse in Sydney (Australia). But she didn't go to dances anymore so she had put it in my dress up box. It was probably designed to go to the middle of your calves, but on me – at nine – it probably was close to the ground. I wish I had a photo of how I looked in that dress, but I don't. I know I loved that dress, but it sometimes got me into trouble.
I wore it for a play our class was putting on. I changed into it in the storeroom for the rehearsals one lunch time. But then the storeroom ended up locked and I had to sit in class in my blue ball gown. The teacher teased me about how I would have to wear it home on the bus. It was embarrassing. But fortunately the key turned up and I was able to change back into the safety of my school uniform.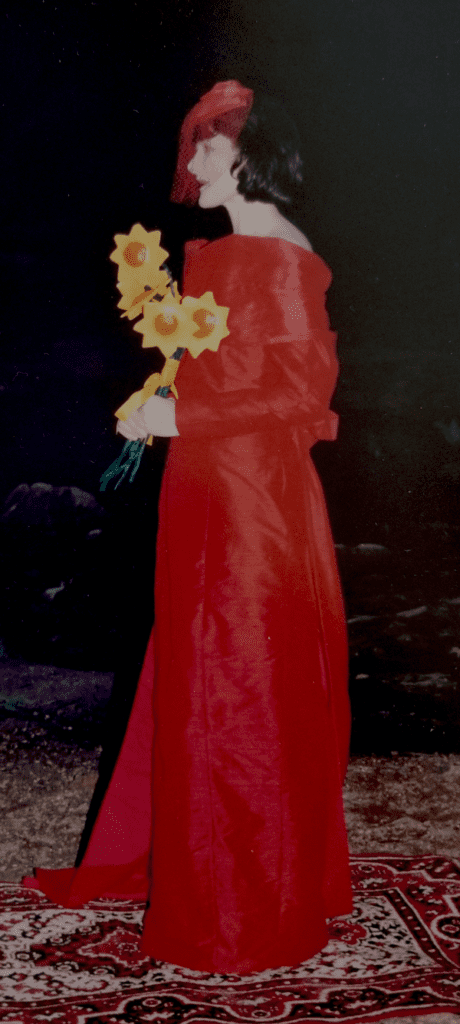 Many years later when I got married, I think I was trying to recreate that ball gown when I asked the seamstress to copy a picture I had cut out of a magazine of a lady in an off-the-shoulder gown. This is how it turned out. Even as an adult, I didn't have many opportunities to wear gowns and to be glamorous, so I thought getting married was my chance to do so. I had it made in red which was a favorite color of mine and I loved it too.
Thinking about all this recently, I realized that becoming a writer of mystery party games sort of tied in with this desire to be something different if only for a day – for a party. When I create characters, I imagine in my mind what it would be like to be them and how it would feel to wear their clothes and to have their personality.
Some of my clients have gotten into this spirit of transformation. Like this guy who decided to really become Bert – the owner of the motorcycle shop (even though it was a small optional role in "Who Killed Santa?"). You can imagine the surprise and delight of his co-workers when they saw him change from this to this: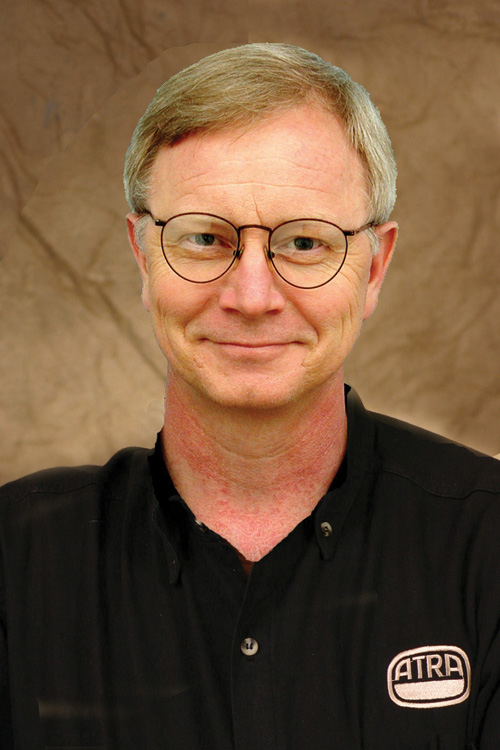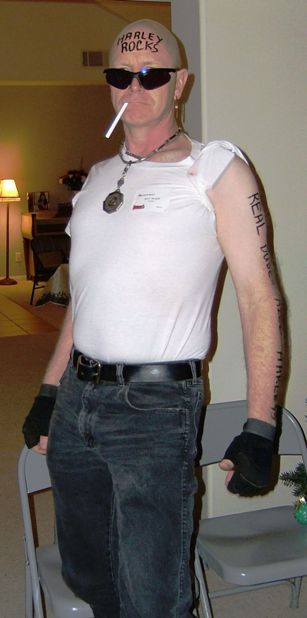 Which mystery character would you like to become?
I thought about providing a list of characters so that you could choose a character and then buy the kit that it belongs in, but I have created thousands of characters and the list would just be too long. So instead, if you are thinking of who you would like to be, perhaps think in terms of periods and places.
Early periods of history (when ladies wore gowns):
1920s (flapper period):
1940s (gangster period):
1960s (psychedelic clothing period):
Modern day (proms also provide a chance to wear gowns):
The future (who knows what they will wear then – a fantasy land perhaps):
Our new escape room mystery is ready
Is your worst nightmare being at a party that you want to escape, but can't? Hopefully this won't happen at this party if you are clever and a little lucky. If you're game, come along and enjoy the challenge.
See "Party Escape"  for details and samples.
NOTE: All the character names in this kit are unisex so it can also be used for an "all girl" or "all boy" party.